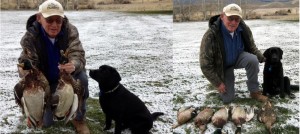 Dear Owen:
Here is Brady with the 5 ducks that he made perfect retrieves on this morning.  I do jump shooting here, and 4 birds were in the water, and one in the weeds.  He is amazing!!!  I had him trained by Ronnie Robbins of Mountain View, WY.  He minds beautifully, and obeys all the commands.  Additionally, he is just a sweet dog.  Everybody loves him , including our Yorky aand 13 year old Lab (he does not go on the hunts).   We want to thank you for getting us such a wonderful dog.  You are welcome to use us as a reference.
Sincerely, Fred Petersen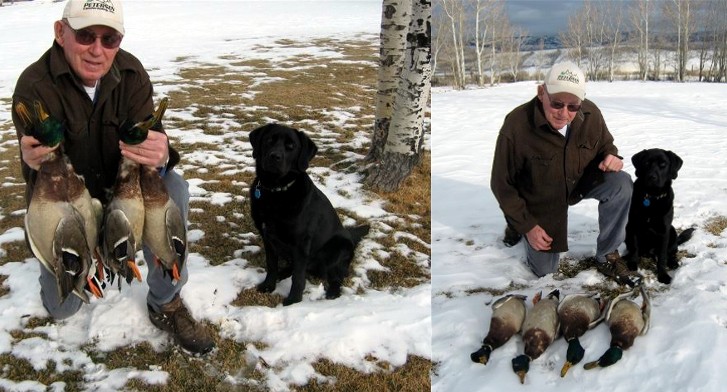 Brady continues to retrieve Ducks flawlesly.  He is now 8 months old and has retieved a large number of ducks over the last 2 months.  He gets them on the water, on ice, or hiding in the weeds, and brings them back soft mouthed and sets them at my feet.  And he minds and he loves it.  He is also  sweet and loveable.  Thanks to all who had a part in his breeding and training.
The OLD duckhunter, Fred

HI Owen,
This is Neil Armer from Winnipeg Canada I got my boy Odin from you last spring, and my friend Carrie got her boy Leroy from you this spring.
Odin is doing very well, he and Leroy have become best buddies!  Everyone that meets Odin says how beautiful he is and that he is the perfect lab.  We were in last week for his rabies shot and the vet made everyone come and feel Odin's calves to see how muscular they are.  Every time we go in he says what a perfect specimen of lab Odin is.
I attached a picture of Odin and Leroy from their morning break at work yesterday.
Thanks,
Neil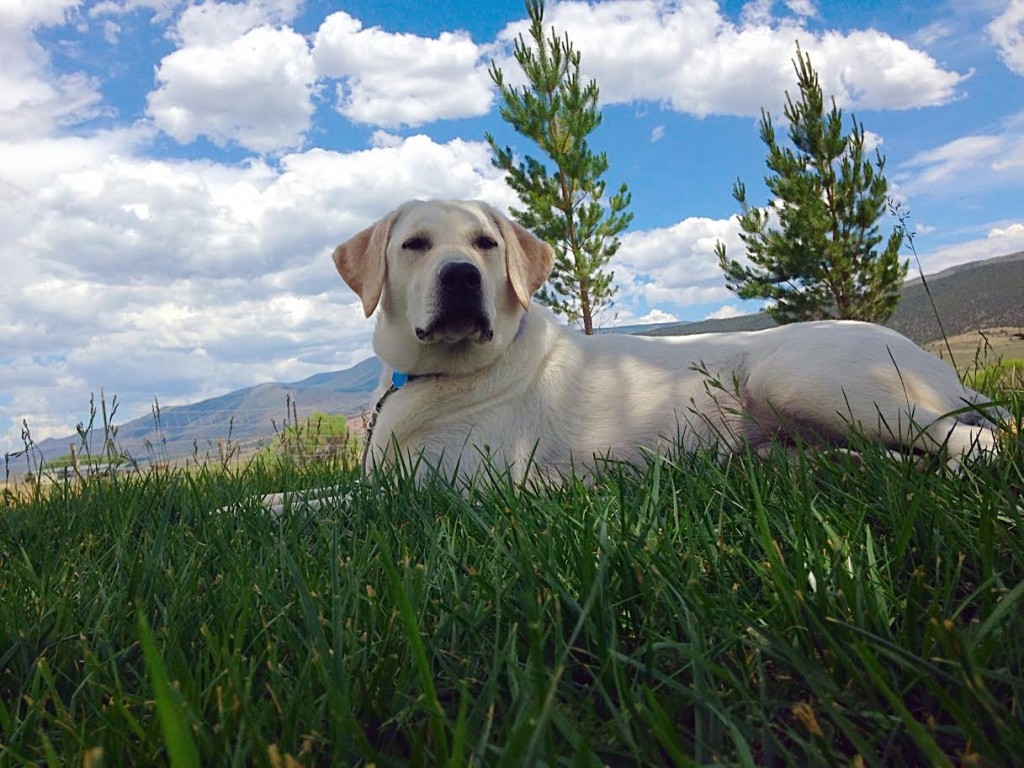 Hi Owen!
Our crazy little (big) Max just turned 1 year old today and he has been a wonderful experience. He was a part of A litter from Thunder and Libby and he takes after his large father! He is lovable and beautiful and loves to be with the family! He is a very bright dog, sometimes too smart for his own good but he is amazing! Max learns quickly what he is and isn't supposed to do and is very funny. He loves people and is very sweet if a little exuberant. He absolutely loves the water and loves taking part in all of our family activities. Just wanted to share this picture of a huge part of our family! Thank you so much for our puppy!
– The Johnson's

Hi Owen and family:
I just wanted to drop you a line and give your family an update on Keno my female yellow lab:
It is remarkable how smart and easy to train my dog has been, she is now four and a half
years old and I could not be more pleased. There have been no health issues of any nature
and your tips on house training really paid off, even as a young pup she was fairly house
broken in less than ten days. Very impressive.
I will be getting another pup from you in the future.

Hi Owen.  It's been awhile since I gave you and update on how Sarg is doing.  If you recall, he was born on Camie's birthday (August 28th).  Camie and Sarg celebrated their birthday together (Sarg's 1st BD).  What a pair!  Sarg is the love of our life.
Terry & Camie, Gunner & Sarg

Hi, Owen!
Just thought I'd drop a line and let you know Jax is doing TERRIFIC!  He's such a GOOD puppy.  He is potty trained, leash trained, knows how to "sit" and "wait" – we're still working on "come".  :o)   He's also growing so fast!   My neighbors, who love Harvey, wonder where I find these wonderful dogs!!!  Jax doesn't even run off when we have him outside.  He lays down in the grass and only goes up to people if they call him over.  When we take him on walks by the creek without a leash, he sticks right by us – doesn't run off or anything, which is REMARKABLE!  I am hoping this lasts – he might get a little more independent as he gets older, but right now, we don't need to worry about him running off or jumping on greeters.   I could brag about him a lot more!  I hope all his brothers and sisters are doing as well as he is.  Harvey has also become very fond of Jax and they play so well together – more than I had hoped for.  Harvey even looks out for Jax and will step in if another neighborhood dog looks like it's getting a little too friendly.  One cute personality thing coming out in Jax – he will do a "dinner dance" when we give him his food.  He gets so excited and jumps around in circles.  We are trying to get his best performances on video.
Everyone that has met Jax falls in love immediately – even the ladies at the groomers didn't want to give him back when we took him for his first bath.  I have some co-workers coming all the way from California just to meet him this weekend.  I've attached a couple pictures of him so you can see how grown up he's getting – the bandana came from Pet Smart after his first grooming and the other pic shows how much Harvey has grown to love him. 
Hope all the other puppies are doing as well as Jax!  But I think we got the best puppy you probably have ever had.  :o) Terri Burton


Molly is a real beauty and a sweetie at that. David Hinds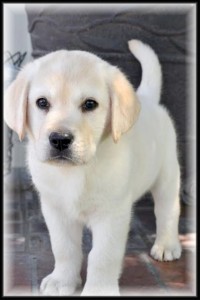 Hi Owen and Jenell,
We just returned from Mammoth and we wanted to share a couple more photos.
We had fun and Cooper did too!
Thanks again for a great pup!
Todd and Susan Keizer
Thought you might like an update on Cooper.  He is growing like a weed.  They don't stay small very long!
He is doing great.  Very easy to train and wants to please.  
We went to the beach today and wants to greet everyone, people and dogs alike.
Next week we are taking him up to Mammoth for some hiking and fishing.  Should be a lot of fun.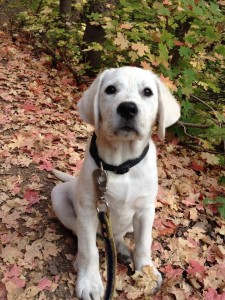 The attached photo of Porter was taken Saturday on his first "hike" in Millcreek Canyon.  Porter is amazing!  He is doing well with his basic obedience training and even getting along well with our 14 year old chocolate lab Marley.  We sure love this little guy!
Thanks,
Dale & Jennifer Pascoe


Owen,
They're doing great. They couldn't be better dogs. Sawyer's temperament is the best. He's a great traveller. Harlee still get's a little nervous, especially in the RV. She's always in the pool. She's a fantastic swimmer, extremely fast and great senses (nose). She's come close to catching ducks on the fly several times. They had a little run in with a Mama Elk at the cabin. They're very instinctive. They cut a calf from the mother, however the mother didn't like it too much, so Sawyer had to run for his life. No training. I've never seen him run that fast. At their last Vet visits, Sawyer weighed in a solid 82lbs. He's very powerful. While Harlee weighed in at 67lbs.
We couldn't be happier with these guys.
Thanks,
Tom Archuleta


 Hi Owen and Jenell,

We just want to let you know how much we love our little Kanosh Ranger.  He is now 4 months old and quite a little man.  He loves the snow, hiking and our long walks (about 7 miles per day).

Just can't wait to take him swimming this summer.  We get many compliments from everyone that meets him.  Our neigbors cannot belive how quickly he has grown. 

We were happy to see Foxy and Thunder had such a beautiful litter. We would love to come visit one day soon.

Buck and Carol Farmer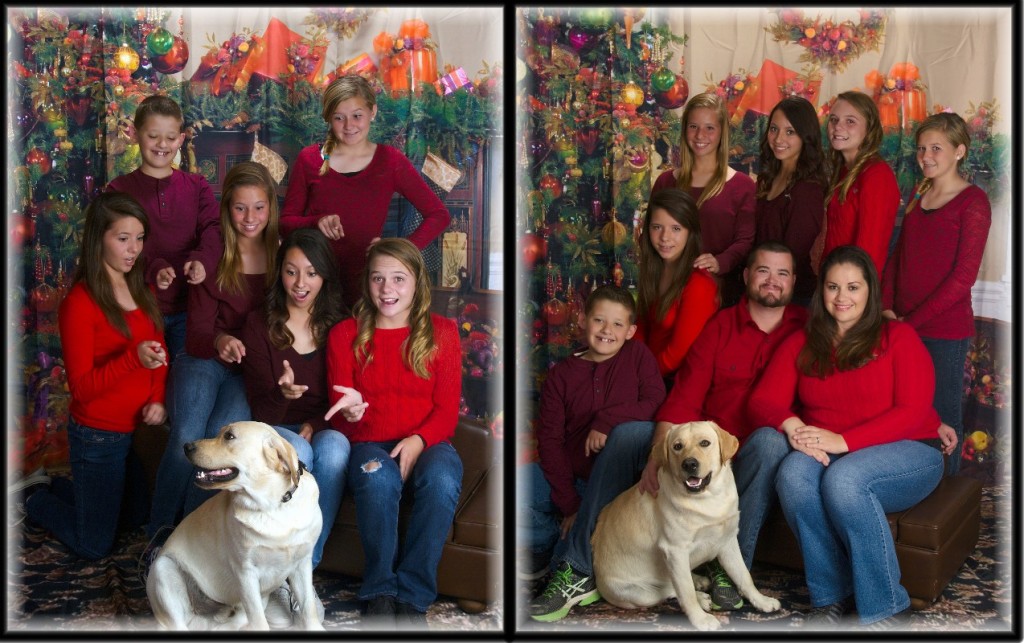 Its been two years since I last updated you about the wonderful ball of fur that you bred that has so gracefully come to warm the hearts of my family and so many more.
Training with Luke began as soon as he arrived home at 8 weeks. Since that time Luke has become a fantastic hunter as well as a children's therapy dog. Due to the very kind, even, and friendly temperament bred into your Labradors Luke has been used in Cognitive Behavioral Therapy teaching children how to be more assertive and communicate with others. Often times these children have not had many interactions with others or have suffered a trauma which has made them afraid to interact. Luke seems to calm these children and then I allow the children to use commands to instruct Luke to do the tasks he has been trained to do. Once the children have learned to communicate with Luke the children and I usually go to into the public where its inevitable that people will stop us to talk about the strikingly good looks of Luke. And wouldn't you know it, the children usually just want to tell others all about the work they have been doing with the dog and begin to come out their shell, often times for the first time in months!!!
I check the Kanosh Lab website almost daily to see which litters are new and how your breeding program continues to get better and better. I can't say enough about Kanosh Labradors and look forward to a new addition very soon.
I have attached this years Christmas Card photos so you can see what a good looking boy Luke has become!!
Paul, & Velma Chaffee and our six kids   


Hi Owen.  I thought I would give you an update on Sarg.  We just love our new addition to the family.  Sarg and Gunner are doing great together and Sarg is enjoying life in Grand Junction.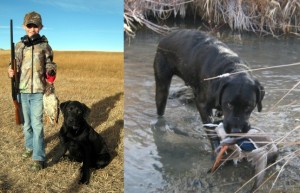 Hi Owen,
I thought you might be interested in a few pictures of your pup.  I took him out today for his first hunt along with my 9 year old son Tyler.  The pictures are of Decker's first ever retrieve.  I thought you might enjoy them.
I hope this email finds you and your family well and of course all of your wonderful pups.  It is long overdue but finally wanted to give you an update on Harley, one of the two male white pups out of Libby and Ike born on June 11, 2010 (you delivered him to me in Las Vegas).  You may remember I came to see him at your kennel when he was about 3 weeks old and arrived on an ATV with my friend after riding to Kanosh from Big Rock Candy Mountain.  It was a long ride to see Harley but soooo worth it!  🙂 
One word sums up Harley – incredible!!  He is truly a once-in-a-lifetime dog and a true lab through and through.  He is trained to obey all his commands both verbally and by hand signals.  Just a few of the commands he knows:  sit, lay down, lay down with head on the ground, stay, come, high five, shake and back-up.  Besides being so smart, very obedient and always wanting to please, he lives a very full life filled with tons of fun activities.  He is an awesome frisbee dog!  It is probably his favorite hobby.  He is a great swimmer too, very fast.  He loves hanging out on a houseboat at Lake Mead and swimming off of the back deck retrieving his tennis balls.  Last summer he learned how to ride in the back of an ATV and also on a jet ski.  He recently went out on his first bird hunt in Nevada and did amazing!  He wasn't gun shy at all and immediately took to retrieving the birds from the bushes.  I can't wait to take him again!  He travels with me wherever I go as he loves riding in the car and exploring new places.  Next time we are out in Utah maybe we can stop by and show you how awesome he is in person.  I feel very lucky to have Harley.  He is truly the light of my life and puts a big smile on my face everyday. Thank you for entrusting me with such an incredible pup!  I hope you enjoy all of the photos of Harley. 
All the best,
Brenda Barre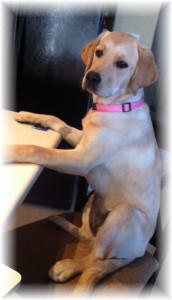 Hello! Hope all things are well, we just wanted to say hello and let you know things are going great with our little girl Denver we brought home almost a year ago now. She really is a treasure and has such a personality! We would be lost…and bored without her 🙂 THANK YOU! Emily and Aaron Las Vegas


Sugar is affectionate, intelligent, handsome and all we hoped for in a puppy; she is bonding well with Coconut and Dakota and likes to play "jaw" (bite each other) with Coconut.
George thanks you and your family again for your gracious hospitality.


Dear Owen and Jenell:
We hope all is well with you in Kanosh. I imagine you are having some pretty warm days– as it is warm here too.
Our amazing new little friend, Nieya (from Alii and Libby on April 7th), has been with us for just over 10 weeks– I have been meaning to write, but being a puppy-mom is a full time job and I just haven't found the time!! Our trip back from Utah went off without a hitch and she settled in at home rather quickly.
We are having great fun with her– she traveled so well to Minnesota and really enjoyed being at our cabin. She has also quickly "taken over" the yard as her own here in Montana. We just graduated from puppy class on Saturday and are going to start Intermediate classes in a couple of weeks. She's a smart little cookie, that is for sure. Loose leash walking is getting better and better and she's pretty good about coming when she's called. We definitely were tops in our class for "shake"!
She figured out the "house breaking" deal right away, although we still need to be mindful to take her outside soon after play, rest or food. I just can't tell you what a bright & attentive, energetic, "quick to please", spirited little girl she is. She has "moxy", for sure, which has its ups and downs, but her personality is developing and we just love her so much.
Just wanted to let you know that things are good in Montana with Nieya. We'll send updates from time to time — everyone says she's the prettiest puppy they've ever seen… REALLY!
Jennifer and Bill Reed
Big Sky, MT

It's hard to believe that its been just over 4 years since we got Maggie (from Ike and Helwa's first litter). She's been an amazing addition to our family. She love's hanging out with the family, playing ball, and especially duck hunting.
She has the biggest heart of any Lab we've ever had. She absolutely loves to be around us, no matter what we're doing.
We're considering getting another pup. Just trying to figure out the best timing (and color!). Kanosh Labs will be our first (and only) choice. We keep looking at the new litters on your website!
Thanks for providing such high quality Labs.
Doug Vandel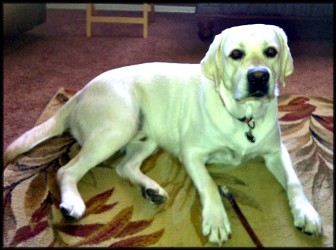 Hi Owen, Well it's been a year since we got Gunner from you.  He is so smart and well behaved.  We are hoping to come to Utah soon and bring him
by to say HI!  He is the Love of our lives… Just wanted to check in and show you a picture!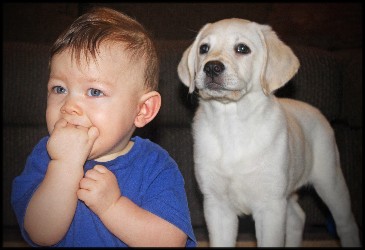 Owen,  Just thought I'd share a picture of "Bella" with our son Jace. She is such a great dog and is training very well. Already house trained and interacts with with everyone very well. I will send more pictures.Thank You so much.
   This is an update from the Toblers from Logandale, NV. We love our Bella (pictures attached)! So much that we would like to know if you plan to breed Alii and Abby again anytime soon? Bella has brought nothing but joy to our family and we are ready for another one. She is so smart and catches on quick. We couldn't have asked for a better dog. We've received nothing but compliments on her; how beautiful, smart, great with our kids. The list goes on. Also we're very impressed with your business. We will never go anywhere else!
Thank You so much for everything. 

Dear Owen,
Thank You, Thank You, Thank You. We love our puppy! She is one of the Valentine's Day puppies from Becca and Ike's litter. We have named her Winnie (as in Winnie-the-Pooh) because she looks like a little bear.
She is beautiful, intelligent, loving, curious, and full of energy. Winnie is extremely social and therefore, loves to meet people. She greets everyone as thou they were a long lost friend and she puts a smile on their face.
We try to expose Winnie to as many people and places as possible. Wherever we take her we get lots of compliments. Usually the first comment is "what a beautiful dog."
Thank you Owen for letting us come to your place. We enjoyed seeing all your beautiful dogs but we are especially glad to have met Becca and Ike. They are such gorgeous and good dogs. We love our Winnie pup and feel fortunate to have a Kanosh Labs puppy!
With Heartfelt Thanks,
Ivonne Bennett & Family


Duke is an incredibly sweet dog, patient with our 4 yr old, and so eager to please. We're still learning, and Duke is still learning, but he's already come so far. He house-trained very quickly, and has mastered Sit, Stay, and Come. We're still working on "down" and "leave it".
We get comments every where we go with Duke about how beautiful he is.
Mostly we just wanted to say thank you for all the work you do to breed responsibly and to provide such healthy dogs with such great dispositions. We're all in love with Duke and so very happy he's become part of our family.
Just want to update you on Dora's puppy that we got 2 weeks ago, the black female we named Lucy. She is such a joy to have in our house. She has been sleeping through the night since the day after we brought her home and has adapted to her kennel without any problems. She is growing so fast, is active as ever, loves to chew on everything-including feet and legs, and loves to be outside. She will start puppy training classes next week which I think she will do very well at as she picks up on things quickly. She will go and sit by the door when she needs to go outside and has had very few accidents in the house. I have attached some photos of Lucy that we took today while we were trying to do some gardening and she was helping!
Thanks so much for our wonderful puppy.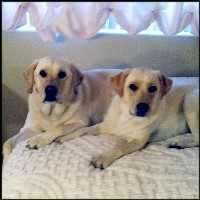 This picture says it all of Seaver.  He is such a delight.  He is happy with a bone or his ball and is just laid back and relaxed.  We get compliments every time he and Sidney are out on what beautiful dogs they are.  Just look at him.  He is so smart too.  Again, I can't imagine our house without  either of them.
Here is a new picture of Sidney.  She is a year and a half now.  65 pounds of joy.  She is so cute and we love her so much.  Definitely has the hunting instincts much more than Seaver.  She sees a bird or a rabbit and goes right after it.  Thanks for giving us such wonderful additions to our family.
Diane Giammarino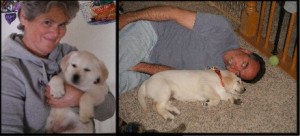 Thank You again for this fabulous adventure!
  1st week at new home, Rocket has made himself at home with the Kendall's
  Owen and Jenell  you must have started training because he was front facing sit almost at the beginning, he walks 3 houses each way from his driveway on leash,fetches/ bring back retreives,potties in the yard- he even runs to the location on his own, he is working on handshake  as of last nite, he is going in and out of his kennel on his own – we close door for puppy naptime.
   Rocket has been going to work with me all my employees think it is great that rocket has me leash trained to go outside and pottie by the trees when he wakes up after a nap, then quite a few of them are working him until he is tired and goes back to sleep in the kennel i took to work. i bring him out on leash behind the counter and customers like seeing him and well as him being curious toward them as well.
   he had his first vet visit last monday (3rd day with us) and the staff was very inpressed with the puppy and your book of facts that we got with Rocket 15.3 lbs- microchip is registered to us.
     April 30 is our 30th wedding anniversary and this is the best gift we could have got.
   we will keep in touch  THANKS AGAIN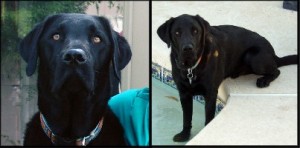 Owen,  Wanted to let you know that as of earlier this week Jackson became a registered pet partners therapy dog.  He passed the test with the highest scores possible.
He really loves people, and is extremely gentle with all.  He is very calm, and not flustered by anything.
Jackson is a joy.
I wanted to let you know how good he is doing and how happy we are for him to be part of our family.
Donna

Hello Owen, I wanted to share a picture of our boy Mack. Mack was born August 24, 2010. His parents are Winter and Alii. He has been such a wonderful addition to our family. He is very smart and actually is a lot like Winter from her bio you had in her adoption package. Mack loves to swim and participate in dock diving. My husband and I are now volunteers for the Las Vegas Labrador Rescue and Mack is so welcoming to all our foster dogs. Most importantly I wanted you to know that Mack is actually a blood donor for other dogs in need of blood. Apparently there are over 40 different blood types and he is a match. He has already saved many lives. Thank you for such a wonderful dog. We couldn't ask for a better dog!!"
Jeanne Heck

Owen, Thought you might be interested to see how Cody is turning out.  Today is his 1 yr birthday, and he was one of a litter of Pilot and Joy's puppies from this date last year.  At his last vet visit about a month ago he was 92 pounds and I don't think he has gained any weight beyond that as we have reduced his food ration a bit to make sure he doesn't get overweight while he is still growing.  He still has his signature zipper (cowlick) up the muzzle and between his eyes.  We are working with Lorenzo's Dog Training Team and have taken him through basic and off leash obedience, and are midway with some retrieval training.
So very sorry to hear about Pilot.  That is sad news indeed!  Having lost our very precious chocolate, Kona, we know how it feels to lose a great dog like Pilot!  Cody is beginning to fill that void and is going to be a great dog as he matures beyond his puppyhood.  He was to-die-for cute (as the kids say) as a puppy, and is now an obnoxious adolescent, but rapidly becoming the great dog I know he will be.
Best regards,
Craig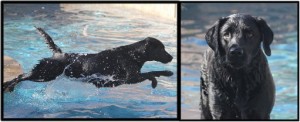 I just saw all the beautiful puppies on your site. I can't believe how much Addie looks like Dora in that picture! Anyway, just wanted to say hi and congrats. I wish I could have puppies all the time! Tanya Cameron

Hi Owen,
Hope things are going well for you, your family and your pups.  We came up from Las Vegas and saw you last spring and brought home a little chocolate lab, we named her Cimmy.  She is the love of our life and the absolute best family dog one could ever ask for.  Boy, do you know how to breed for awesome temperament.  She was born on 1/22/2011 so she is 1 year old now.  She has a mighty bark (if you didn't know better, you'd think I had a huge Rottweiler in the house!).  She is actually a great watch dog.  Not that she would ever do anything in anger but boy if that doorbell rings she is right there to let someone know she is on the other side of that door.  She is also a pretty big girl, bigger than we would have thought but it is all good with us.  I've attached a few pics of her with the kids.
 On to the reason for my email, we are looking to add to our family and I'll be honest, she is such a great dog, we just don't want to settle for less.  She really could use a friend and now that we've lived through puppydom we are ready to do it again.  So, I'd be interested to hear what you might have available.  Actually we are fine with an adult as well as we are really just looking for a companion for Cimmy.
Let me know what you might have that will fit our family.
Thanks and best wishes.
Hope all is well.  How is Smoke's mom doing?  I keep telling him he's getting a brother soon.  I had no idea how much I would need my little guy, especially this yr.  He has been a huge help with me losing my old boy.  Just had no idea things would get worse.  I didn't even have time to really grieve losing my old boy when I got more bad news.  My Mom …..  Anyway Smoke is the best, always making me laugh and helping thru this rough time.  Last night when I was so worn out from dealing with hospitals, doctors, hospice all week all I wanted to do was relax and watch tv with him.  had no idea he was going to be such a character.  He always watches tv which I have always thought was so funny cause he doesn't like to be disturbed when the tv is on.  Last night he went nuts, running around, barking at the tv, jumping up to the tv licking it, etc.  It was so funny.  He had my friend who is attached to Smoke dying in laughter.  His favorite movie is now Marmaduke.  I recorded it so I can always have it for him…Anyway I have attached a picture for your enjoyment…

Hello Owen and Jenell,
We thought that you might like an update on Katie.  We have attached some recent photos; she is a beautiful little girl.  Took her back to the vet yesterday for her shots and check up.  She weights 18.5 pounds and is growing like a weed.  She is as smart as a whip and we dearly love her. 
Potty training is going very well, she has the doggie door down pat and we have only had a couple of accidents.   She knows set and stay and she loves us.  I can't think of a recent purchase that has given us so much enjoyment. 
We will update you again soon; thank you for selecting Katie for us, she is perfect!!
Jerry and Janice

Owen,
Bandit is getting so big. He is absolutely GORGEOUS  as you can see.
Jody Johnston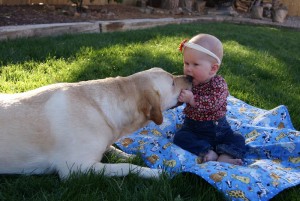 Hi, Owen and Jenell!
Kody is going to turn three next month, so we thought that it's time for another update.  We're so proud of Kody.  We knew that she'd experience a lot of changes when we had our first baby last year.  We were a bit concerned that a two-year-old lab might not be able to contain all her energy around a baby, but Kody's been amazing!  She's so sweet and gentle with our baby girl and we know that they'll be best friends.  The picture we attached is when Joelle (our daughter) was almost six months old.  Only a truly perfect family dog would be trusted to be around a baby.  Though this picture seems fairly unsanitary, I can't help but love it! Joelle's definitely not allergic to dogs. 🙂 Again, thank you so much for producing the quality we see in Kody.  She's the best!
-David & Karissa


Hi Owen,
This is the gal that got the special pup and named him Owen.  He is the sweetest guy and smart.  Owen has made such a difference in my life.  Driving up to your place and picking him up was one of the best things I have ever done.  He made me laugh immediately and he is such a lover.  Just as you stated in Nellie's description, he knows when I mean business and he knows when he is free to be playful.  Everyone who sees him goes out of their way to comment on how good looking he is and how well behaved he is.  Just the other day, we were hiking in West Fork Oak Creek and he was retrieving a stick out of the creek.  Several people stopped to take his picture.  Last week he learned how to swim in the ponds at Red Rock Crossing.  We go there about every day and we are so lucky to be able to walk and swim in such a beautiful place.  Owen is so loved and such a delight.  We are a pack of two.  It is clear that you know what you are doing.
Regards,  Julie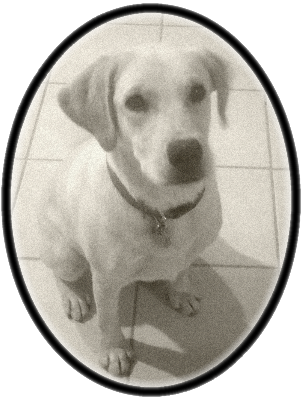 Owen,
 I received your email today and it reminded me to send you a couple of photos and updates on our pup Bella.  I kept meaning to send you an email and life keeps getting hectic.  Bella just had her first birthday on June 11.  We have gone through our ups and downs with her but she has turned out to be an excellent family dog.  She did pull up about 600 square feet of synthetic turf in the backyard when she was about 5 months old but that can be fixed.  She has been nothing but loving with our children and our adult Sheppard mix.  The two of them are inseparable.  I just wanted to thank you for breeding such beautiful dogs and if we know of anyone looking for a lab we will refer them to you.  I'm attaching a couple of photos of Bella as well.  I hope you and your family are dong well.
Sincerely,
 Josh & Jen Schwartz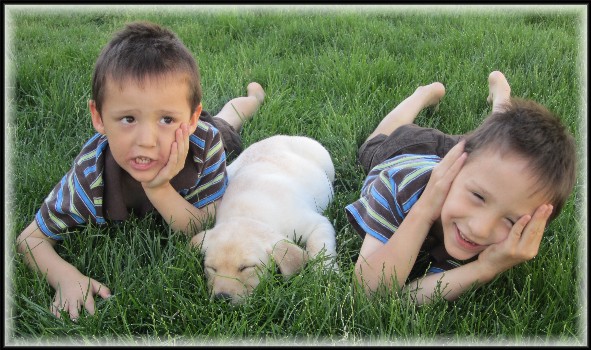 Just thought you would like to see that the puppy is settling in.  Sam spends a lot of time holding her. He was very excited, and having Nala with us for the weekend has been great.  She is showing her the ropes and the puppy follows her to the potty spot.  The first night she never whimpered or whined.  Thanks again… Gail

Hi Owen and Jenell,
Our puppy has taken over all of our lives completely for the better.  Her personality is definitely type A!  We have enjoyed every day she's been with us.
Recently, we introduced her to water.  Took her exactly 1 1/2 seconds to jump in and chase sticks.  She's completely fearless of other dogs, all people, loud noises or critters.  We are in a somewhat rural area with lots of rabbits, her very favorite thing on earth to chase.
Feeding time is a real treat in our house.  You warned us about her being "piggy".  She's the poster child for it!
Training has been relatively easy.  The crate was only an issue the first night, after that a total piece of cake.  Potty training was quick, in fact, she had so few accidents in the house we thought maybe she came potty trained all ready!
Fourth of July was very fun; there are some pictures of that special day included.  You'll see why after you open them!  (The last 2)
as for her name, well, started out as Quinn but quickly developed into several names.  Her official name (when she's in trouble) is Quinny Alloysius Jones esquire the 3rd.  Commonly goes by Quinny or ms. Jones.  Pete still loves her more than any other "toy" and they've begun sleeping together at night as I don't latch her crate anymore.  She's such a great addition to our family and we feel very fortunate to have gotten her.
Thank you for breeding such wonderful creatures and you'll be the first call i make when we're ready for #3.
Sincerely,
Roger and Jana bridges

I know I send way too many pictures, but Addie is so much fun I have to share her back to you guys! I really am so pleased with her. She is honestly the best behaved, sweet natured, calm lab I have ever met. We can take her anywhere and she is so friendly, but not obnoxiously so. She does not jump on kids and is so obedient. She acts more like a mature dog then a puppy. She has a unique relationship with all of us (including our other dog Rocco). She does not destroy or chew things that aren't meant for her to chew. Not to say I would not love her if she did, but I am just so impressed with her.
She now is so into the water. She will jump (at first pretty clumsily, but getting more graceful now) off the edge and go under to find her jolly ball. So fun to watch.
Anyway, again thank you and I so enjoy seeing all those sweet puppies you put on the site. Have a most wonderful summer with your family.
Tonya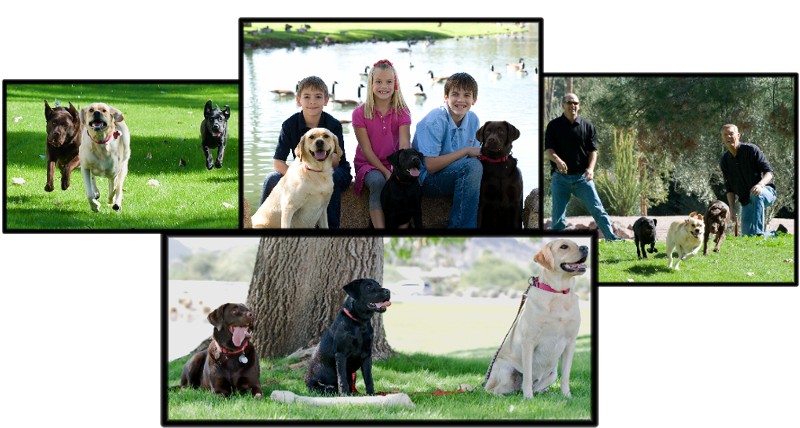 HI Owen!
Well, now having 3 of your Kanosh Labs I wanted to get you a few pictures of them together! We had these taken in Nov 2010. It sure is fun to have these new family members~ Bella is the Chocolate owned by my in-Laws Barry & Mandy Asmus Lily is the yellow owned by my Family: Andy, Nicole, Andrew, Raegan & Emilee Asmus Roxy is the black lab owned by my sister in law & Fiancée Angela Asmus & Paul Yang


I just want you to know how excited we are to add another one of your puppies to our family. I can hardly wait……
Here is Sidney and Seaver. She is making herself right at home after only 2 weeks. She is punky and adorable, and Seaver is still trying to figure out what she is doing in "his house". We love our Kanosh Labs. Look at these two. I picked out another great dog. Sidney is as adorable and loving as Seaver. Happy New Year.
Thanks Owen.
Diane Giammarino


Thank you so much for my puppy. My parents picked him up from Montana in Septemeber – he is Trixie and Ike's little pup. He is so mellow and very good. He is growing fast and gets taller by the day! He has been a bundle of joy since the day he arrived to Florida!! He sure does love the beach and the warm weather, although I think he likes cold days better! He is almost 18 weeks and he weighs 28.6lbs. He loves to play under the bed, eat woodchips and ice cubes, and walk himself on his leash. He also like to be carried most places, like down stairs and out of the car! Thank you for such a wonderful little puppy!! He is a piece of heaven! I have attached some pictures of him at the beach for you to see him!
Ashley Lippincott; Naples, FL

Hello my friends… I am sending you a note wishing you and yours the very best in this Holliday Season. I have to tell ya… We love Porter with all our hearts. He is truly the very best. Porter goes to all the horse shows and is great around the ranch and loves the water. I have passed on your names to many many who are asking about where he comes from. I have attached a few pictures so you can see how big he is. I will get some more soon. It's a small world… so get this my personal banker who lives no place even close to my ranch in North East Scottsdale / Rio Verde has a pup from you guys as well… Its Jim and Lisa with " Kodi Bear" Keegan. I will be in touch with ya. I am thinking in the future of getting another pup from ya.
Thanks, Jaimes


Hi Owen,
Just wanted to give you a progress report on Kahlua.
She is just delightful, we love her so much! She is eating well and gaining weight. We take her for walks every day and she just trots along with us. When she gets tired, she just plops herself down, looks at us and whines as if to say "Are you guys going to pick me up or what?" She loves to play with the toys we gave her, she skips and hops for the balls and kong toy.
She is already housebroken, she actually cries to go out and do her business at night – she is incredibly smart and just amazing, we cannot praise her enough. People are constantly making comments about how pretty she is.
She is getting lots of attention and bonded with us from the very first day. She loves Gabi and gives her a run for her money and Gabi loves her back. Her personality fits right in with our family. She is such a joy to have around and she is so cute. She makes us laugh constantly. She loves being outside on the covered patio and takes her naps there mornings and afternoons in the cool breeze.
I will e-mail photos in the near future. We are having problems downloading for some reason.
Thank you so much for letting me have her. She will receive excellent care and be loved and protected her entire life, I promise you.
Take care,
Sincerely,
Daniele Naito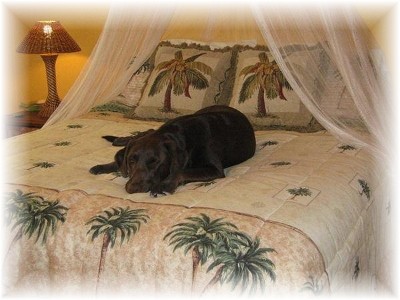 Hi Owen,
Thought I would give you an update on our little Kahlua.
How quickly time goes by – she is already five months old. She is nice and plump, she weighs about thirty pounds. She eats two meals a day, breakfast and dinner, and takes two long naps a day. She's lost most of her baby teeth. She goes on long walks to the park twice a day and runs after Gabi when she retrieves balls and frisbees. They have bonded so well together and are best sisters and best friends. Gabi is so patient with her, letting her climb all over her, growl at her and bite her.
She is well socialized – she has met quite a few dogs on her walks and at the park, among them a Neapolitan mastiff who weighs 170 lbs, two boxers, one of which weighs 100 lbs, and a Rottweiler who weighs about 120 lbs. – she runs and plays with them like she's known them forever. About a month ago, I was at Petsmart in Las Vegas and there was a full grown Great Dane walking around – Kahlua started wagging her tail and wanted to play with him – she fears nothing!
She is completely housebroken and goes to the patio door when she needs to go out and barks once to let us know. She is incredibly smart, she loves to train and learns so quickly – she knows SIT, SIT-STAY, GIVES BOTH PAWS, DOWN, DOWN-STAY. We just love her – she has brought us so much additional joy and laughter. It is entertaining to just watch the interaction between Gabi and Kahlua.
She is a happy little girl – I talk to her like I would a child so her vocabulary is quite extensive and I include her in a lot of the things I do so she follows me around since she's very curious.
I'm having her spayed next week.
I'm including photos.
Take care,
Sincerely,
Daniele Naito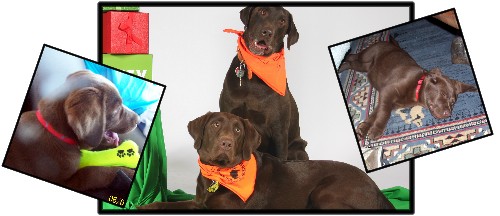 Hello Owen and Jenell and kids. Just wanted to say Happy Holidays to all of you from Ray, Randie, Maverick and Cheyenne. We are doing well and hope it is the same for you. We were taking Christmas photos a couple of days ago and we met a little yellow puppy of yours. I don't know the family name but they had a black lab, a choc lab and now a little yellow one for a complete set. We were talking about where our guys came from and found out that they had just picked up their pup from you.
Cheyenne is doing well and growing up. He is about 60lbs now, all energy and mischief. He sure knows how to use those little green eyes on me. Being cute has saved his life over and over again. He sure learned that lesson very quickly. Such a little snuggler and he is right behind me where ever I go.
Ray and Randie Crump
Maverick and Cheyenne


Hi Owen,
We picked up our puppy 3 weeks ago. She was from Joy and Alli's last litter. We are so happy with her. We named her Nelli after my husband's favorite shotgun (Benelli). She is a wonderful pup! We all love her so much. She has fit in our family so well. She walks well on a leash. She knows how to sit and is obedient about staying where she should (her area) of our home. She really loves a towel that she claimed shortly after coming home. We call it her blankie. She will lay down on it wherever it is. That has made it easy for her when she goes in her crate and when she has to stay in her doghouse outside. She likes to pull the hand towel off the oven door and curl up with it. She hangs out in the kitchen where she is fed. I think she REALLY likes to eat. She was so good the first two nights when we first brought her home, she woke up about every three hours to go potty. Since then, she has slept all night. She likes to talk to us when we talk to her. It's so cute! She was a very good girl when she was a guest at Grandma's house on Mothers day. My mother loves her Granddog! She is a very good retriever! Her father Alli would be very proud. Five days after coming home, she had retrieved every lost ball, sand bucket, bubble-blowing wand, etc that the kids lost under the deck! The kids were very happy with her. When we go on walks, she has to carry a stick in her mouth or her leash which ever she can pick up quickly. I love it! She is just darling! Thank you for such a great dog! We didn't think it would be possible to have such a good dog after loving our last lab Farrah so much. She is a great fit to our family.
Thanks again for such a great dog!
Derek and Stacey Nigh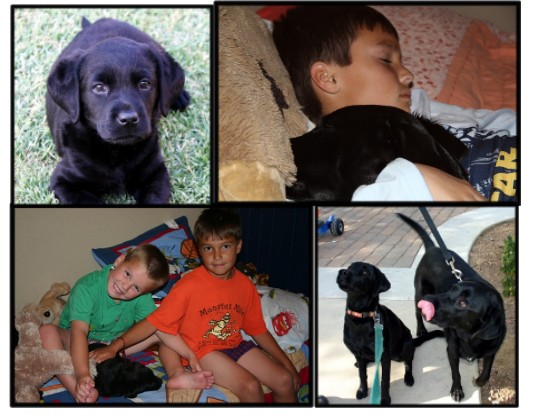 I just wanted to thank you again for Addie. She is wonderful and has fit perfectly into our family. The kids can't get enough of her…. Addie played with Tracy' Smith's dog Gryffin today- I am sure you can figure out which is which!
Have a great day Addie is the calmest, most cuddly lab …. She will stay cuddled up for hours with him.
Tonya Cameron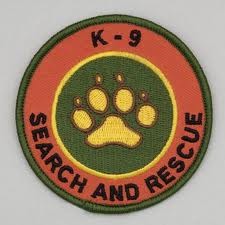 Good morning, well, I guess it's afternoon already
Do you remember I emailed you in July about Pd's first SAR K9 trail……. It was here in Mesquite. A recovery was made.
I was contacted by Sandy sister Hannah, (Sandy is the person that was lost and body was recovered) last night. Hannah is from North Carolina and wanted me to put my dogs on the trail and see if we could track out Sandy's path. It's been 67 days.
We started this morning with Hannah and family. Jake & PD were scented. I honestly do not know the "how's" in this, but they found the spot where the body had laid. They took us directly there and probably on most of the track Sandy would have walked. I'm absolutely amazed. I gave the family little hope of anything after this time period. So, I have to do some research on aged trails, as obviously there is some info out there that I'm not aware of. I'm so proud of these two, they did an amazing job. The family is now performing their own investigation privately.
Sandy's husband was on the search with us this morning. He is quite an active guy and an avid hiker. He's alone now and looking for a female choclate lab and of course, loved PD. Are you expecting any litters in the near future with choclates?
I do hope all is very well. I told him I would stick my nose in there and help him find an awesome puppy from you.
Namaste
Debbie (still in amazement)


Owen & Jenell:
Wanted to send some pictures as they are growing very fast…
We REALLY LOVE both of them & would recommend you to anyone… What awesome pups…
We are starting puppy classes on next Monday although both Chief & Willow both know how to sit & are already learning to lay down, I'm such a proud mom… I can not believe what a small world we live in, ya never know. Thought I'd tell ya that when I took Willow to her first obedience class we were in the same class with Willows sister (the first pick of that litter) Wow "Kiwi" is so big next to Willow you can sure tell she is the runt. What awesome puppies you guys are breeding… Cannot wait to see them both mature & grow together in class…We love both our pups & wouldn't trade them for anything…
Thanks Gina Molnar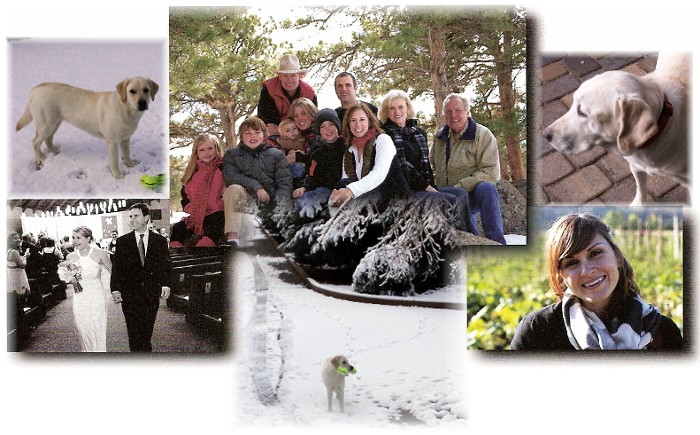 Hello Owen,
I hope that you are having a wonderful celebration, I know we will be in touch in the new year for one of the new puppies for our family in Colorado.
They think the children having a puppy for the first time will be a wonderful thing.
But I still love Roxy! But we will see what the New Year brings for us.
I wanted to send a photo of our dear O-Be-Joyful, it was hard to get her to hold still long enough, but she loved our first snow!
Thank you so much, she has added such JOY to our lives! She will soon be a year and fit into her body, but we are having such fun with her.
Have a MERRY CHRISTMAS and the best to all of you in the New Year!
Jim and Eileen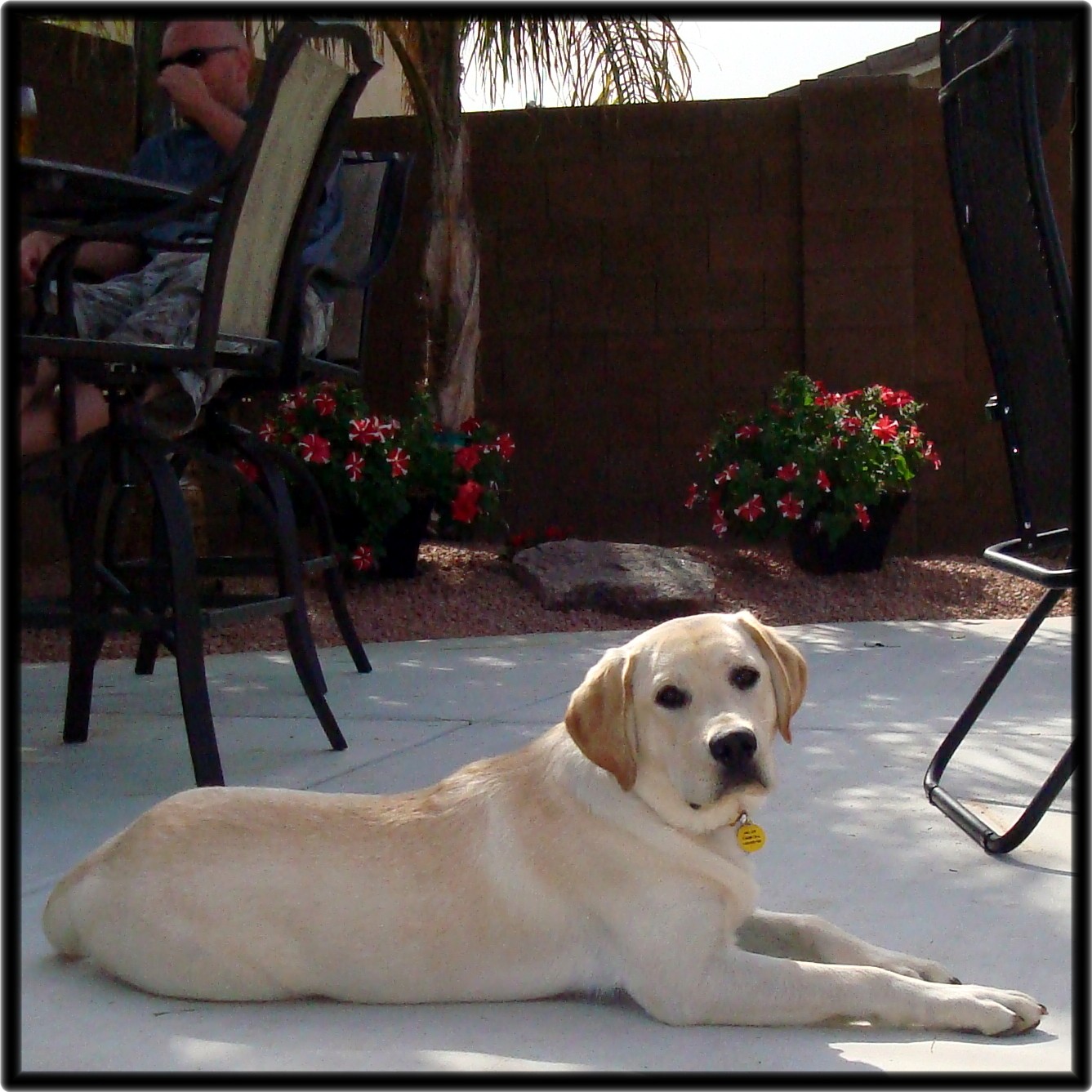 Hello. I have attached a picture of Duncan. He is amazing and has passed his second 6 week obedience training course.
Thanks!
Jill and Andy

Hello Owen,
Thank you for the beautiful puppies. They have great, lovely personalities. Coco still wants to go out at night but Im sure she will out grow this and we can get a good nights sleep. They both are smart and terrific pups. We were at the Vet today and everyone just loved them.
Diana


Owen,
Here are a few pics of our Bailey. She is the offspring of Kit and Chief from June of 2008. She is doing great and as you can see, is fitting right in with our other two labs. She is a very smart and playful girl that brings us much joy everyday. She loves the water and could chase the ball all day if we let her. Thank you for a great addition to our family.
John & Jennifer



Hi owen and Jenell,
We hope you guys are well and enjoying your summer so far. It's hard to believe that we've had sadie for almost a year now. She celebrated her first birthday on June 17th. What an amazing addition she is to our family. She is not only beautiful but she is also incredibly smart. We call her cheap entertainment, she's really funny and she knows it! I'm sending a few pictures that we took of her on her Birthday as well as a few from the pool. She is a true water dog! Where there's water, there's Sadie. She loves to jump into the pool and swim. The other day someone left the back door open and after Sadie went for her early morning dip, she came running through the house up the stairs and into my bed, wondering where I was, while leaving a trail of about 5 gallons of water behind her. We just lover her! Next week we are headed to the beach for 8 days, Sadie too. Should be fun. We'll send you some pictures.
Take Care,
Daren, Hillary, Nick, Brianna and Sadie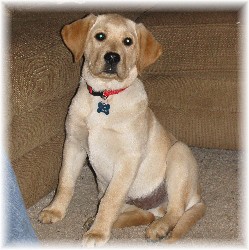 Hi Owen and family!
We just wanted to send you an update on Dakota born 9/25/09. He is a wonderful puppy, eager to learn and is graduating from obediance training tomorrow. He has learned to High Five, sit, stay, leave it (most of the time:), take, roll over (he loves to do this new trick) and just recently learned to crawl. He loves car rides, going to school (that's what we call the Doggie Training classes), jumping on the trampoline and just hanging out with the family. He kind of talks, makes weird silly sounds and is so loveable. Here are a few pics.
Thank you for such a great puppy!
Kathy and Scott Allen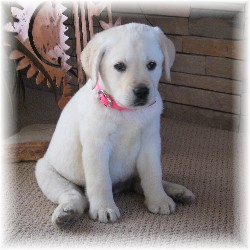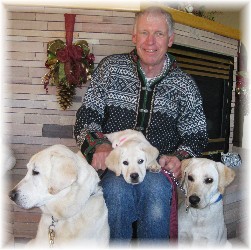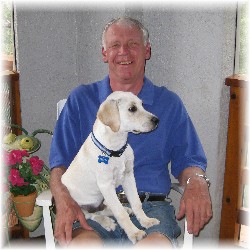 Owen,
On Father's Day 2010 a tribute to Man's Best Friend-Kanosh dogs.
We have 3 white labs-elder Klondike and Kanosh youngsters, Dakota and Coconut. Labs are always good dogs but these are special advocates of a loving relationship.
Gratefully,
George and Joan Klimas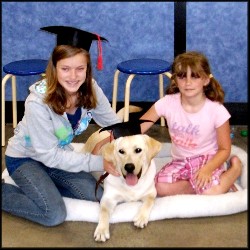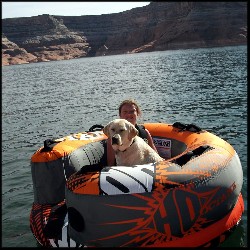 Owen,
Just a quick update on our puppy from Chief and Eleanore last November (2009).
Scout is now 9 months and is the pride of the family. He is a happy dog and is still growing at 75 lbs! I attached a couple pics. He recently graduated top in his class in intermediate obedience class and is on track for advanced and therapy training. My daughter Maddie (11) is the primary trainer; they make a great team.
Scout loves the water, no surprise. We just returned from few days at Lake Powell and Scout was in his element on the boat and in the lake. He had just as much if not more fun than the kids.
Thanks for a great addition to our family.
The Frazier's
Brad, Susan, Brock, Maddie, Kacie…and Scout

Hi Owen and family,
Sorry for the lack of contact…been busy, busy, busy putting in the garden and filling the pool. Koffee now stands at the gate whining and when he looks at us it's as if he's asking where has it been all his life? Koffee and Kream have a tag team going; Kream does not want to go in the water yet so Koffee retrieves the item and Kream meets him at the steps, takes it away and brings it to you to throw again. Repeat. Repeat. (They're Labs) If it's on dry land Kream is the retriever but in the pool she's anchor on the relay team. She went into heat on May 28th. Even though Koffee was neutered in March he still has the urge so we are playing rotate the Labs. I'm thinking we have about another week before they can play. Kream sure is a pretty little girl and so very sweet. She's right at 60 pounds and will be a year old on the 17th. She has graduated from Large Beginners and Advanced Beginners Obedience Classes and will start Pre-Novice in the next session. She will get her CGC as soon as the club schedules the class. She's been kayaking on Lake Mead and tent camping on the bank of the Colorado River in Bullhead City. We had planned a 10 mile paddle but the wind was fierce so we'll have to try again another time. Kream is a delight and we couldn't love her more.
We hope you all have a great summer and keep in touch when you can.
Warm regards,
Rema & Trev Brady



Hello Owen Family,
This is Stacie Parkin, I don't know if you remember us, but we came out and bought a puppy from you last year. His name is Koda and he will be 1 yr on may 23. Reba and Chief are his parents. I just wanted to say what a joy he has been. He is a beautiful dog Thank You! He has quite the personality!
Parkin Family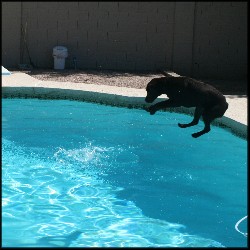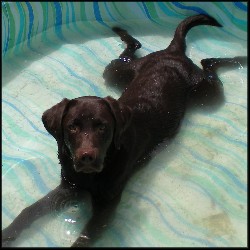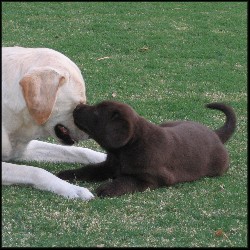 Owen,
I've been meaning to write you for some time now to give you an update on Walter. We picked him up from you, here in AZ, in Nov of 08. He was the first pick of the litter from Ike and Helwa. He has been nothing but a great dog since day one. He absolutely loves the pool. Lucky, my parents yellow lab, knocked him in and it has been a constant battle to keep him out since. I think he is part hippo because he just wallows in any puddle he can find. He house trained quickly, and was the class clown at obedience school, where he would rather lay upside under the chair and chew on his lead than listen to commands. However, when it came time for the final exam he was the only one to score 100%! I take him hiking regularly and he is gearing up for his first camping trip. He is a giant goofball, but he brings us great joy everyday. I've attached a few pics of him to share with you if you'd like to see more let me know as I have a ton. Thanks again for the wonderful dog, and when it's time to get Walter a partner in crime I'll be in touch.
Aaron Buffington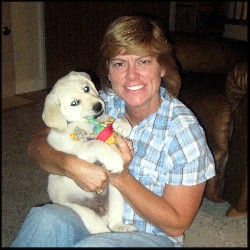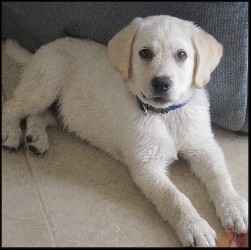 Hi there
We have settled in on the Island and your boy is a HUGE hit. He's one of a kind here and everyone loves him. He likes the beach but doesn't know what to make of the waves. He is playing in the surf so he should be in the water in no time. I will be sure to take some pics down on the beach next week. Thanks again. I will keep you posted periodically.
Tanja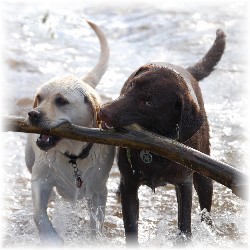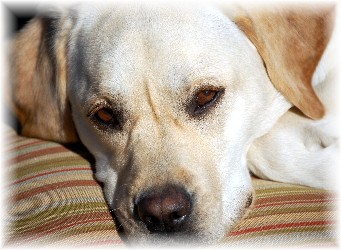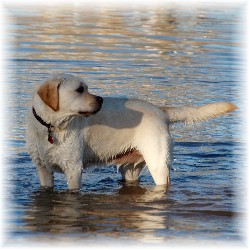 Hi Owen and Jenell-
Hope all is well up there. Here are a few pics to let you all know how great we are doing. I continue to look at new litters all the time. They are so cute and they grown up so incredibly fast.
Here's a little update on Mya and Cash…..
These 2 are an absolute blast! Mya just loves to show Cash who the boss is all the time. As you can see, he has totally outgrown her…very handsome, tall and lean…….yet still eats like a small pony. He has such a different personality and is really a 'mammas' boy. He has to always be close by and makes sure that I know he is near. He still has the puppy prancing and I hope he continues to display this beauty. He has not quite gotten the idea that the pool is a good thing down here in AZ. Mya knocked him in trying to play with him when he was a just a little puppy, and he now often tried to hide under objects that are way smaller than him, like the outdoor coffee table. However, he loves any type of water that he can touch bottom. I am thinking it won't be long and he will figure out that the pool is a great place for he and his sister to play…..he is SO close. Right now, he runs the perimeter and she continues to bring him toys to tug. She is really working him to just get in with her.
We went to the lake over the weekend. They LOVE to bring prizes. They thought a big log was way better than some small measly stick. It was either that or the nearby ducks. I am happy they made the right decision.
They play hard, rest comfortably, love each other and are very much adored in return. I can't thank you enough!
Best wishes for a happy summer ahead.
Shari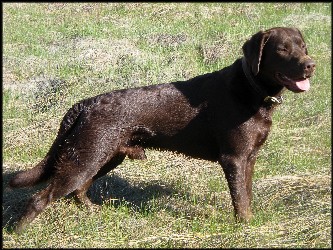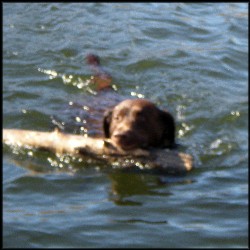 Owen,
Jane and Jon Hackamack here, from Heber. We got a pup from you two
years ago and I am ashamed to say have never sent you any pictures. His
name is Kai, from Addy and Ike's litter of 02/01/08. He is a WONDERFUL
dog!
At any rate, here are a couple of photos I took today on our walk.
Thanks for a great dog and sorry for not sending any photos sooner.
Jane and Jon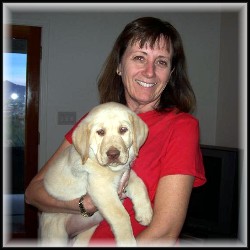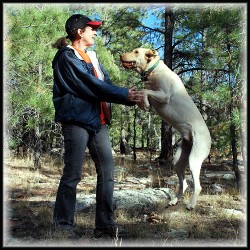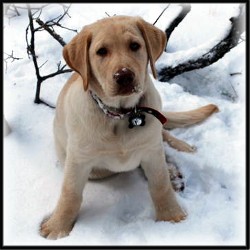 Owen,
Just looking at your new litters and saw Ike and Addy had another litter. They are so cute! Indigo was a yellow lab from their previous letter, and she is gorgeous. Seventy-five pounds of love and fun. She has an absolutely amazing disposition and always ready to go. She is so friendly and got along amazingly well, with my five pound chihuahua and the two weinerdog chihuahua mixes. She loves the little chihuahua the best and adores plying with her. It's pretty funny to watch. She travels really well and enjoys cabin time on the weekends and all summer. I am the 7th grade English teacher that was searching for a hiking companion, and she worked out perfectly. My brother loves my dog and is searching for a female hunter. preferably chocolate. I missed out on Ike and Addy's new babies, but maybe next time. Please keep me in your contact list if a new hunter-type with Indigo's fantastic disposition becomes available. I am sending some Indy growing
up pictures for you. She is truely and amazing lab.
Kindest regards,
Leigh Johnson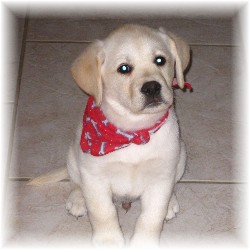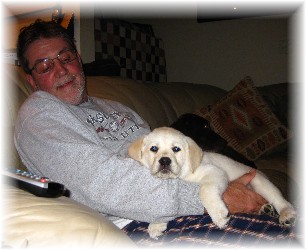 Hello Owen, Jenell & Family,
You must of thought we fell off the face of the earth…well, we haven't. I am so sorry for not contacting you sooner with pictures of Kodi Bear I'm about to send you. Quite frankly, pictures that have been taken I am not familiar with attaching picture through an email. Now that my daughter has helped me do this, I will be able to send these and any others to be taken later. Lisa & I are having so much fun with Kodi, he is such a terrific pup, and for such a short time he has grown so quickly. He is such a well behaved dog and Bailey, our female chocolate lab, is beginning to accept him. Vaccination stage is now coming to an end, can't wait to take Kodi in my truck to wherever I go and up to a lake so he can experience the water and possible swimming. Hope to take pictures of that experience and send them on to you. Life is extremely busy and hectic, just seems to be our style so I will try and stay in contact with you as best as possible to keep you updated on our little boy. I have referred quite a few people onto you. Again, thank you so very much for being the breeders that you are and bringing Kodi into our lives.
Take Care,
Jim, Lisa, Bailey & Kodi Bear Keegan

Hi Owen & Jenell
This is Harley at about six months. What an excellent addition he has made to our family. Harley was offspring of Chief & Kit and Debbie's first pick of a litter from last fall. He has bonded well with Sadie "our pound puppy" and they are best of friends. Harley loves being close to us and is a wonderful companion. He is very smart and very determined, and has to be reminded who is the Alfa male from time to time. Harley is very quick to learn new task and is eager to please. He loves the great outdoors and is a great hiker. Thanks again for the opportunity to be the parents of a great pal.
We hope that we have the opportunity to have Harley visit your ranch sometime this coming summer.
Sincerely,
Bob & Debbie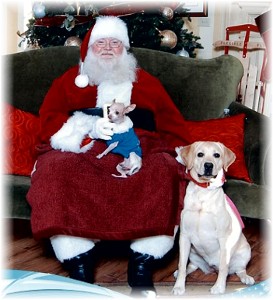 Hi, hope all is well. I just wanted to let you know that Natasha is a real sweetheart and I love her to death. Attached is a picture of her trip to meet Santa Claus. Thank you very much for the wonderful gift.
Tammy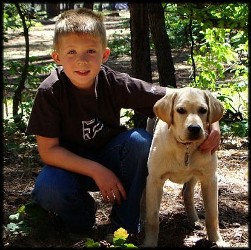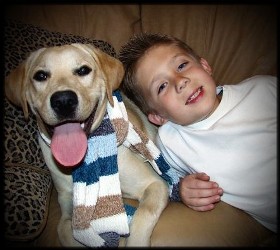 Hello there,
Sending you a few pics from this year of our beautiful Rylee. (From Chief & Kit's Feb.
litter). She is wonderful and is very loved & spoiled! We've had a fun time
taking her camping, swimming & all sorts of things.
Hope your family had a great Holiday!
Jen, Andy & Tyler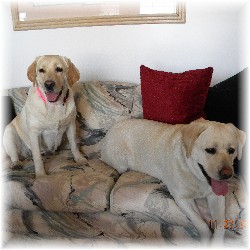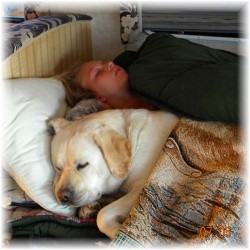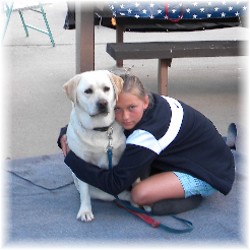 Hi Owen,
Just a brief note to let you know that Topaz settled into our home and routine the minute she arrived! Her and Zoey are best buddies! She has the sweetest disposition of any dog we have ever known. She looks beautiful – gained a few pounds back from her recent surgery and her coat is as soft as rabbit fur! "Taz" is so happy all the time – her tail never stops wagging! Zoey is even loosing a little weight tying to keep up with her as she never wants to quit playing fetch! And yep, they both go to work with Brent in the morning! We can't wait to take Topaz in the RV as soon as it warms up and see if she likes camping and fishing….ha!
We hope you are your family are doing great and have a wonderful new year!
Best Regards,
Sherrie and Brent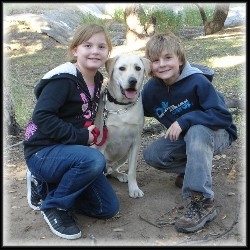 Owen and family
Well it's been a year that our lab was born 1-5-09. We named him Parker. We lost our older lab to cancer in Feb. 09 and contacted you and had one pup left. We picked him up from you on your way to Arizona, we are in Vegas, and what a dog he's everything we wanted and more and though he will never be our old lab that passed has making a name for himself. He was crate trained the day we brought him home and he is now taking over our house like he was 10 years old here are some pictures of Parker through his growing stage .Thank you so much for saving the last pup for us. Some day will come by the farm to let him run with the big dogs you really have great dogs you're bringing to so many people.
Thank you very much
Greg&Linda Micoz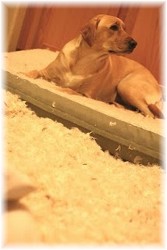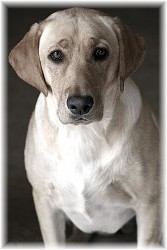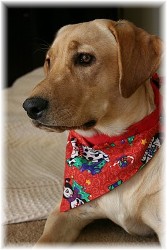 Merry Christmas to the DeGraffenried family!
Hello, my name is Samara Link. My husband David, and I bought a beautiful yellow lab puppy from you a couple years ago. We named her Norah. I just wanted to drop you a note to let you know that she is well and very, very loved! Norah is so well behaved and she universally sweet. Everyone who comes to our house or who we run into when we are out– camping, taking walks, at the vet, etc. – falls for her. Even people who claim not to be dog people say they'd like to take her home. She is so amazing.
She wasn't much of a snuggler as a puppy, but now she curls up on us when she has a chance. She goes on walks with me and runs with her dad almost every day. We go on a trail where we can take her and her brother Killian off their leashes. Norah always leads the pack. Happiest when she can bound around ten to twenty feet ahead of us. She always looks back to be sure where we are, and she also runs back and forth between us and her spot at the lead. We live in a neighborhood where the lots are fairly small. But when we let Norah and Killian outside they run around and swim happily. We also take regular trips to "The grass patch" – her favorite spot! She jogs laps with me and we throw the ball over and over again. She runs HARD, that Norah! Every time she returns with the ball, she immediately drops it at our feet and intently waits for us to throw it. That's something she's done since our first game of fetch when she was eight weeks old. We've never had to teach her to "drop it". Norah also listens perfectly. When I say "come", "sit", "lay down", etc. there is zero hesitation from her. She aims to please- something I think will keep her safe over time.
Anyway, I guess the point is – Thank you! Thank you for giving us our sweet Norah. She makes our little family complete. We love her so much that I can't even find words to explain it. Norah brings us joy and smiles every single day. She's amazing! We're thankful that you guys made that possible.
With love,
The Link Family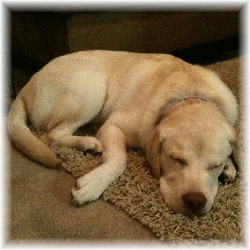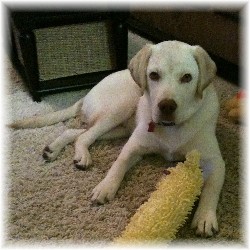 Hi Owen!
Not sure if you remember me, but I bought a yellow lab from you back in Aug. I just wanted to give you an update on the little guy 🙂
His name is Rooney, and he is such a joy to have! He has such a funny personality and he picks up new tricks very easily. And he is the most well behaved puppy i've ever met (really!). He rarely whines or whimpers, it's amazing. We love taking him outdoors to dog parks, hiking, swimming, all of it. Everyone that meets him falls in love at first sight! Overall, we couldn't ask for a better companion.
Regards,
Chelsea



Owen, I just wanted to send you a quick e-mail and thank you again for "Drake"!
He is an exceptional puppy! He has already learned to sit on command and is learning other
commands as well. Sending a few pix I took the day after we brought him home. Hope you are all well!
Kelly



Thought you might like to see an update on our great dog Halibut. He is "personality plus". A day doesn't go by that we don't give thanks for his energy and presence in our home.
Thanks, Jaime and Carol

Hi Owen-
I always go on your website to see the new puppies and admire how cute they all are. I noticed Seaver's parents just had one of the new litters so in honor I am sending a few photos of Seaver. We honestly never thought we could love a dog like we love him. He is such a good guy and we can't thank you enough for bringing him to Arizona to us. He is a bit spoiled, but loved more than anything. Good luck with this litter. If the pups are anything like Seaver, whomever is lucky enough to get them, will be sooooo happy. We think he looks like mom Eleanor.
Diane Giammarino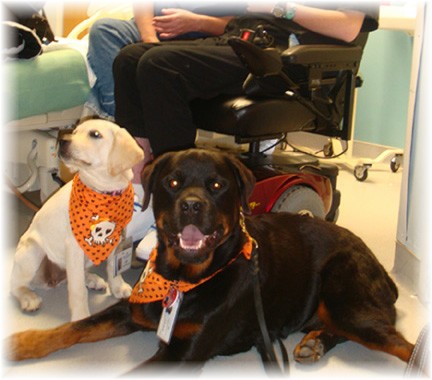 Hi Owen & Jenell,
Have to tell you how proud we are of Lil PD……call her Punky Dog most the time. Jake ADORES her and she him. This photo was taken this month while doing pet therapy at the hospital. We're doing some imprinting on her for SAR work, she has a great SUCH and trails real well. (so treat and praise motivated, she'll do anything. I work her with Jake all the time, as he teaches her so much, but her innate ability is amazing, what a worker, always wanting more. What a lab! She goes everywhere with us, all our classes, all our work. Had to take Jake into Christoper Yach, DVM today to check some lumps on his tummy (they're fine). He was so impressed with both of them. He's going to start his search for a new pup and may be contacting you, he was really impressed with her personality and appearance. His chocolate is getting up there in age. Everyone at the hospital (and everywhere we go) love her, she's getting better every week at the hospital. Laughed so hard the 2nd week we took her.. Jake was pulling a little girl around the halls in the wagon and I asked the little girl to hold PD's leash for me (always like to involve them). PD went into her bucky bronco mode and didn't stop for about a half hour. We laughed so hard we thought we would cry. Had to check pulses twice. She's so enjoyable, so relaxing, so noble (look at that pose)… Love her to pieces. Again, thank you so much for caring so much about the breed.
Debbie Smith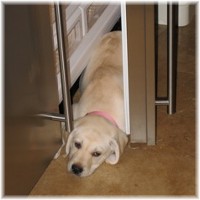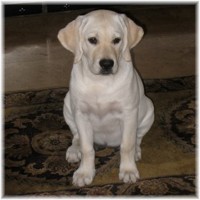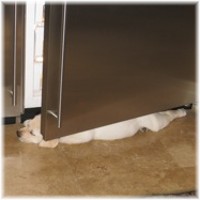 Hi Owen & Jenell,
I thought you might like an update on how Sadie is doing. Let me just say, she is the most well behaved mellow puppy I have ever been around. She's so smart and loving. She has learned so much in the 8 weeks we've had her. She has
the best personality, we are all enjoying her so much! She does some pretty silly things that we get such a kick out of. The weeks after we brought her home to Las Vegas it was really hot outside. We would take her out to potty (which by the way she took to very fast! Maybe only 4 pee pee accidents in the house to date, and those were in the first week) and she would run back to the door to get back into the house. She would immediately lay on the tile by the refrigerator. She learned quickly that when the fridge or freezer doors were open there was lots of cold air and now as soon as anyone opens the refrigerator or freezer she wedges herself inside the door and lays down. We have to physically pull her out. It's really funny! Daren taught her to get the paper every morning. We open the front door and she runs to the driveway to retrieve the paper. Most of the time she brings it back. Sometimes she gets side tracked and we get the paper with a few tears here and there. She loves her crate! We have never once heard her cry, whine or bark in it. We've only heard her bark a couple of times and those were when she was playing with us. She's very quiet and patient. She's been sleeping through the night since week one without a peep. I really could go on and on about her. She's just about 4 months old now and weighs 34 lbs! She's going to be a big girl. Maybe when you're here for PBR, I'll run her over to the T&M so you can see what a great puppy you produced! Thank you again!! 🙂
Hillary Libonati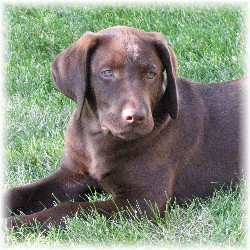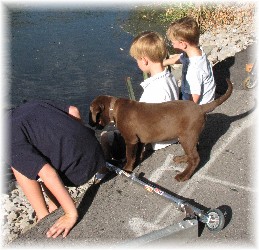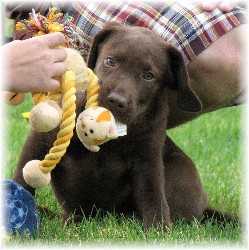 Hello Owen & Jenell,
I wanted to send a couple of pictures of Chili. He is doing GREAT! We love him so much and can't imagine life without him now.
He is beautiful and growing fast. He has done excellent with house training. He learns very quickly and has such a sweet disposition. He is becoming a great friend to us. We take him everywhere, well almost! At first he could hardly run, coordination wasn't his forte. Now he runs after us up trails and chases the boys in the backyard. What fun he has been.
Thanks for the great job you do breeding and taking care of your dogs so they have great puppies!
Sincerely,
Anne Vanderhoven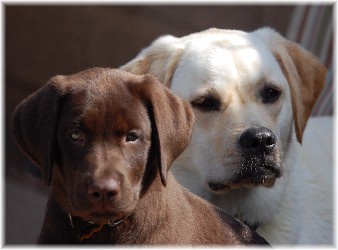 Hi Owen & Jenell,
Just wanted to say hello and send a few new pics.
These 2 just love each other. They play and sleep right next to each. Mya is not always too happy about sharing the paper gathering in the morning, so I created another newspaper that I throw outside each morning just for Cash. Now he too has one to pick up and bring as a prize. Since Cash's arrivial Mya has lost 3 pounds running and chasing. Cash weighs 14 pounds and is able to jump up and get in the lawn chair with Mya. Mya is such a good sister and just mothers him in every way. Both are constantly swimming as you can imagine.
I can't thank you both enough for the love and smiles I have daily watching, walking, and playing with these two.
Hope you both are well.
Until next time….
Shari



Hello Owen & Jenell,
We just wanted to take a moment to let you know how Kenai is doing. He is such a sweet, good boy! He just graduated from puppy obedience school and is doing exceptionally well at mastering all of the commands he's learned. We are so proud! We've been taking him hiking and on long walks on the trail behind our house. And he's just starting to go into the pool on his own. He's such a kind soul to other dogs, children and people. We just love him!
Whitey adores him too! They play all the time together. He's a very happy lab!
We hope you and your family are doing well!
Best to everyone,
Andy & Carrie Thoreson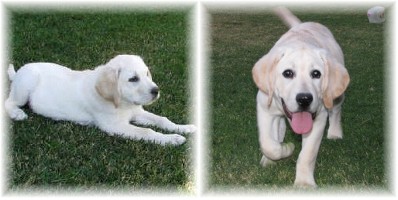 Owen and Family,
Kristil and I thought we'd send you some pictures of Sarge. He was born 01/04/09 and is from Chief and Topaz.
He has been an absolute pleasure to have in our home and the bond we formed with him was very quick. Sarge took to crate training and housebreaking quickly and recently completed his basic obedience class and is taking to his commands (sit, stay, come, heel, walking on a loose leash) very well.
From his first walk and it seems daily since, we get complements both on his good nature and his striking looks.
Soon we will be starting his training and preparing him for his first bird hunts this winter.
Kristil and I cannot thank you enough for the great puppy we have in Sarge. We are now thinking we'd like to get Sarge a little chocolate sister soon.
Doug and Kristil Corbin
P.S.
On a personal note, Kristil and I have never been able to have any children of our own. Sarge has filled a spot in both our hearts that is not measurable.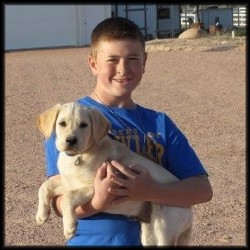 We just wanted to send along some pictures of Koda. He has been an awesome little puppy. He is very smart, quick to learn, and goes along with whatever the program is. We love this little guy very much. Thanks for taking the time and effort to produce such great pups.
Thanks, The Watson Family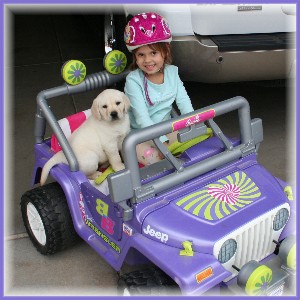 Owen, thought you would enjoy seeing a picture of Cobalt. He has been a great addition to our family. He plays very well with our young children and all the neighbor hood dogs. You should be very proud of your breeding practices, we certainly are happy we found you!
The Schmidt Family.


Dear Owen:
It has been almost 11 weeks since you found me my adoptive family. I wanted to drop you a line and let you know how happy I am with my new family, and what a good job you did in finding them.
They have been so easy to please from the start. Right from the first night they let me sleep in their Master Bedroom, I got them up only once (just to let them know who was really in charge) and they even gave me a treat for getting them up so I could release myself (they have great treats).
I have managed to train them fairly well, they are real fast learners.
I go to the door to go out, I get a treat.
I come when I am called, I get a treat.
I sit when told, I get a treat.
I just look cute (as if I couldn't if I tried, see pictures), I get a treat.
This training though, is a big job for for a little big dog, so I have decided to sign my Meme and Bumpa (my pet names for them) for training. I think they are smart enough to be show quality. If not its a good foundation for them.
I also have a sister, cousin or something, her name is Emma (see the family picture, she is the short one next to me). I don't know if she is human though, she has more energy than I do, she can outlast me in anything. We play chase, she wears me out. We swim she beats me across the pool. We race on the golf course and she wins. I think its in what they feed her.
I have convinced Meme and Bumpa that I can ride in the car and be good, besides the treats, I get to go to the neatest places.
We go hiking, and I have learned about creeks, slippery rocks, tadpoles and OH yea mud. What a great thing mud.
We took the car to a place called California, it has the neatest thing called a beach. The beach had birds to chase, sea weed to eat and pull around, soft dirt called sand that you can dig in until you are almost out of site. The beach even has water like the creek but it stands up roars and chases you up the beach then stops and runs back to the big pond. I could chase that dumb water all day.
Well I better go now, I'm not supposed to be on the computer without proper supervision, and if I pretend to have to be trained to type I am sure it is worth some big time treats.
OH yea one other thing, tell all of your future adoptive families about the Dog Whisper Book. The book isn't very good to listen to or eat, but it is really fun to have my parents whisper to me.
May the Force be with you,
Tobi One Kanobi


Hi Owen,
Rylee is doing great. We can already tell she is growing fast, and the vet thinks she's going to be a big girl. We get a lot of compliments on her personality, as well as her beautiful looks & head shape. She is really friendly, and actually quite mellow for a puppy. We just took her to a trap shoot at a friend's place where she was surrounded by people and of course lots of shotguns. Rylee happily slept & played the whole time without a care in the world. I can't tell you how many compliments we got about how they've never seen such a puppy so calm and beautiful. She is doing really well with everything – walking on the leash, riding in the truck, learning basic commands, playing fetch, what a smart girl ! Thank you so much, we will keep you updated. I've attached some pictures for you.
Thanks,
Jennifer, Andy & Tyler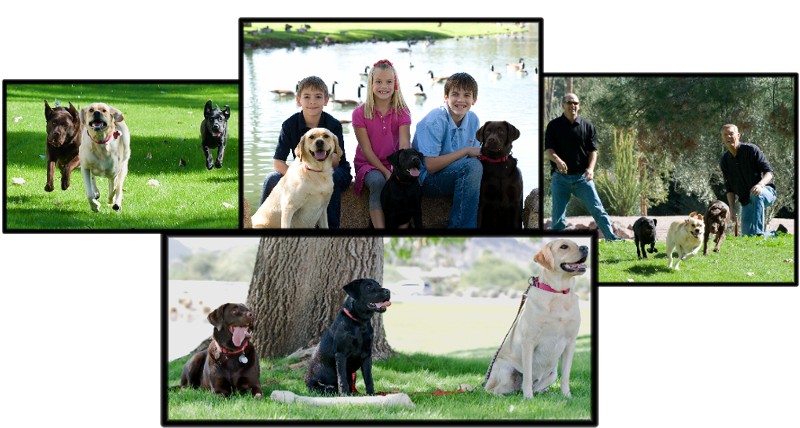 I thought you may enjoy the discovery of DIRT that Lily found 2 days ago! She's almost 10 weeks old (on Saturday) and doing amazing!
Lily goes to the vet for her first check up, some more shots and weigh our little butterball…
The kids can't wait until she has all her shots so we can take her "out" for walks and to parks at 16 weeks!!! For now, home life is just fine for us… especially since potty training is still in action but amazing!!Only 2 accidents and that is when I was in MN and Dad was a bit overwhelmed with kids and new puppy!
I never thought I would say it, but WE ALL really do love having a puppy, she is so easy so that really helps….
Thanks to Owen & Jenell (our great breeders!!) where Lily came from! If you want a lab, they are the people to contact!!!
http://kanoshlabs.com/
Enjoy the Pics!!
The Asmus Family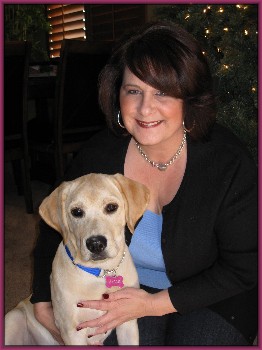 Hello,
I purchased Maggie last August, she is such a joy! we love her so much! We are wanting to take a trip to your farm in September and purchase another dog so Maggie has a playmate, were hoping you will have a litter than, we would plan our trip around current litter about that time frame. We had her spayed in December, it is hard to believe she will be a year old in June.
Thanks so much!
Mary Frazell


We Love Our Ginger!
Hello from the Ross family! Our apologies it has taken so long to thank you for your wonderful hospitality and our new family member!
Almost two years ago, we traveled to Kanosh to let our son pick out his puppy. He named her Ginger, and they have become best friends
just like we had hoped. As I type this, they are wrestling and playing keep away with a pillow. She is a beautiful girl and we get
compliments quite often. Her best features are her height and her coloring. She is 26" tall and a dark chocolate color. She listens
well and is an excellent companion on hikes and walks. Even with her size and strength, she makes it very easy for me to take her on walks.
By the end of her first year, she had mellowed out quite nicely. It took at least two to three years for our last lab to settle down so, we
were pleasantly surprised. Even in Ginger's first year her chewing was minimal and we had no digging problems. She loves her raw hide bones!
Ginger enjoys the best of many worlds. She is a pampered house dog, a rugged mountain dog and now an experienced hunter.
She will run through a field tirelessly looking for pheasants. But, she also has the ability to wait out the day patiently in a duck blind
if necessary. She absolutely loves people and other dogs. She is very sociable, loveable and wants to please. She will bark appropriately
at strangers arriving to the house, and we appreciate this protective instinct. Living in the suburbs and working full time, we were grateful
she had no excessive barking problems and gets along nicely in the backyard with neighbors. Addy and Kimo would be proud of their off-spring!
Most of all we love her and she is certainly a part of the family! We enjoyed our visit to Kanosh and would love to come back again.
Thanks for all you do to ensure the success of the dogs you breed. Best wishes to your family!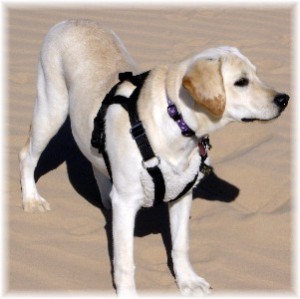 This is kara at 42 pounds very smart- already retriveing my ducks and newspaper,thanks alot
Craig & Susan Procell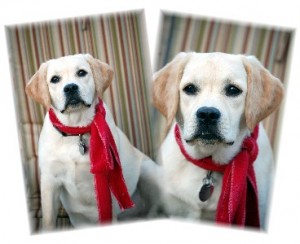 Merry Christmas Owen and Family-
Just thought you might love to see how beautiful Mya is getting. Here are
some Christmas photos. She was not a big fan of any hat, besides just
chewing on it……wearing it is unheard of.
Hope you all have a wonderful, safe holiday!
Shari Hess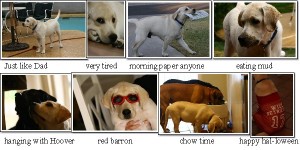 Hi Owen, Jenell and family,
Wanted to share some pics of Halibut at five to six months. We totally love this dog. He is a perfect fit with our other dogs. A boxer, black lab and pug. He has put on 10 pounds a month since he came to live with us, that puts him at 60lbs. to date. He is easy going, easy to train and hasn't chewed a thing to date. Keep up the good work!
Thanks,
Jaime and Carol Regan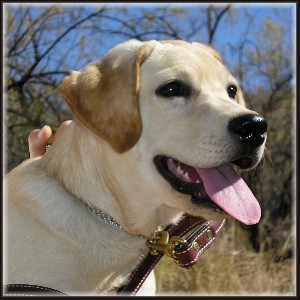 Hi Owen and Jenell,
Thank you SO much! We especially love the hat and we are proud to wear it and advertise our Kanosh allegiance. Kody is doing great. We just had her spayed a couple of weeks ago. Everything went really well and she's back to her bouncy self. She will be 6 months old the day after Christmas and she is just barely forty pounds. She's a tiny girl–perfect in every way. Our vet loves her and says that she is growing beautifully. Thank you so much for breeding such wonderful dogs. I think we mentioned this before, but if you ever have a litter with a black female we'd love to add some more Kanosh to our family. 🙂
Thanks,
-David & Karissa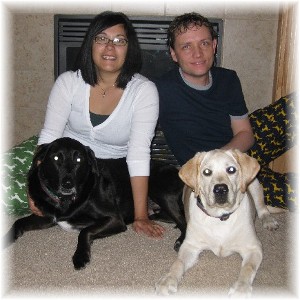 Hi Owen,
Puma is growing so quickly, at 6 months he hardly resembles a puppy anymore. The once adorable little puppy is now becoming an intelligent handsome adolescent, he is even going through a voice change (he is discovering he has strong deep bark). I am amazed at how quickly puma learns. His quick wit and good nature has made training seem effortless. My wife and I are most fond of Puma's temperament, he is such a kind loving dog. Because of his temperament and good nature, we were able to develop an instantaneous bond with Puma. Like a child, his curiosity is also remarkable, he loves to explore and discover his environment. This inquisitiveness is refreshing at times, because it brings to my attention the little things in life that we take for granted. Not only has Puma brought warmth to our home, he has also brought warmth to our heats.
Thanks,
Lonnie & Kristi Adamson


Hi Owen,
We are the proud owners of Daytona Belle and Dacotah Princess who were born April 2, 2007 to Bell and Duke. Our girls are so special and we love them so much! They are healthy and have beautiful black shiny coats. They love to run in the park and play fetch. Dacotah loves to swim and Daytona loves to lay on the step of the pool! They both enjoy swimming in the lake and traveling with us in our Motor Home (plenty of room for two labs and us!). Daytona takes after her dad with a blockier build and Dacotah takes after her mom, being a little leaner.
We are attaching some photos and hope you enjoy them!
Thank you so much for the wonderful additions to our family.
Best regards,
Larry & Pam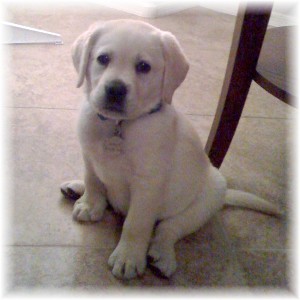 Destin has been and continues to be a delight to have and to watch develop physically,
and in her behavior. Her personality has been very sweet from the
get-go and she's become very social and outgoing. She's a wiggle worm,
rambunctious, and a goof at times and other times she seems to be very
observant and looks majestic as she sits upright and watches us or
what's going on in her surroundings. She's smart too (well, selective
smart it seems at times). We love her tons!
Karen and Mike Spanich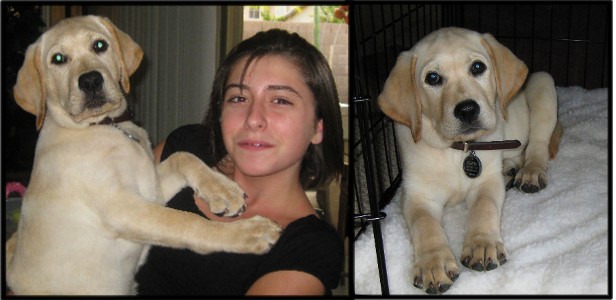 I can't tell you how much we love Seaver. He has brought a joy to the house and so much fun. He loves to go to the park and run after his balls and has a box for his own toys. If you tell him to go get his moo, moo…..he actually can dig through the toys and get his squeaky toy. He is so smart and so good. He gets into a little mischief here and there, but he is soooo much fun. Thank again. The last picture is him trying to be human. He sees us always sitting on the steps going upstairs. No he follows right alongJ He went to the vet again a couple of weeks ago. At 14 weeks he was 33 pounds. The vet said he's going to be 100+ pounds.
Diane M.Giammarino



Hi Owen and Family….
I hope you and your family are doing well. I wanted to share a little-big
joy going on down here in Gilbert,
I just recently got some new pics of Mya. I wanted to share them with you
all. I keep looking at new litters, thinking that I may want another one.
They are all just so beautiful.
I just love this little one. Mya is getting so big, and she is so smart.
She is just my pride and joy. I can't tell you how many people stop me
and make comments about how she is just a beautiful, sweet dog.
She is by far the coolest thing around. She fetches, sits, and swims like
no other. I have to battle with her to get out of the water. If I drop
something in the pool, she has to get it. She tries to put all the toys
in her mouth at once. We are working on the stay, lay, and shake, but I
think she is just remarkable. I was worried about the furniture and her
wanting to get on it, but really, she doesn't. Instead she just lies on
the floor right next to the furniture in her bed.
By far the coolest thing, in which I can't quite get the perfect
picture(but I will), is our morning routine. She sleeps in her kennel all
night without a flinch to wake me up, but when I do get up, I just let her
out and she always comes back with the morning paper. Her tail wags
fiercely and she is just so excited to bring me the 'prize'. No matter
how tired I am, all I can do is just smile. She drops the paper and waits
for her breakfast. AMAZING.
I just feel I can't thank you all enough. I love this little, beautiful
gal and have to continue to thank you all for breeding such remarkable
dogs.
Happy Halloween!
Shari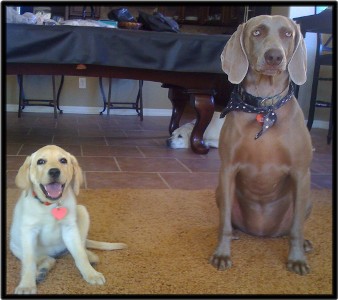 Hi there!
We are really enjoying Scout and she is growing like a weed! She is so
playful and busy. Liberty, our 13 year old Lab growls at her but she
is dauntless. Play play play! She loves to "swim" in the water bowl,
goes potty when told and can get the newspaper and mail. Not bad for
12 weeks. Tonight she start kindergarten at Petsmart.
jennifer scovell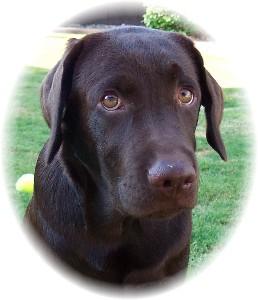 Hi Owen,
I hope all is well with you and your family. I thought I'd send you a couple pics and a video of Ty. He turned 6 months old on Monday 9/15. My how time flies!
He's a wonderful dog. He just gets better and better as time goes on. We get so many compliments when we walk with him. He's extremely handsome!
He's also well behaved. We bring him to friend's houses and he is more behaved than their own dogs! In the midst of commotion and loud sounds, he lays there chilling or sleeping. He's the greatest! Everyone wants him!
We have several nicknames for him now. But our favorites are T-bone and Meatball. He's so big and round and meaty so these names fit him well. Our vet calls him Chocolate Thunder and our neighbors call him Brownzilla. Like I said, he's a big hit here in Chandler, AZ.
Thanks for breeding such wonderful dogs and being able to give us Ty!
Renee Thomas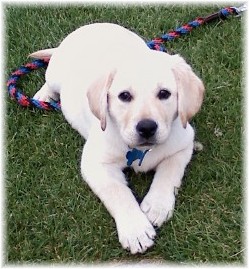 Hi Owen,
We received a puppy from you about 3 maybe 4 months ago and she is absolutely the best puppy ever. We ended up calling her Cabela and she learned her name right away. She knows her sit and stay and were working on roll over. But she is very obedient, loves other dogs, and loves children. Now were looking to get another one around december january. We would like a black male with a block head. I was wondering if you are planning on haven puppies around that time.
Thanks,
Lauren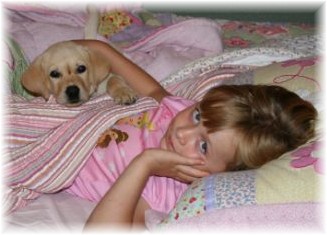 Hi Owen, We just wanted to say thanks for the great breeding that comes with your labs! Our dog Nash has turned out to be one of the greatest dogs we have ever owned! He has such a peaceful and happy temperament. He acts like an older dog and he is not even a year old yet!!! He has never jumped up on anyone, is easily trained, loves life, and our family to pieces!!! If we are ever in the market for another lab I hope you guys are still around!!! Thanks so much, David, Julie, Ryland, Megan and Nash Sexton.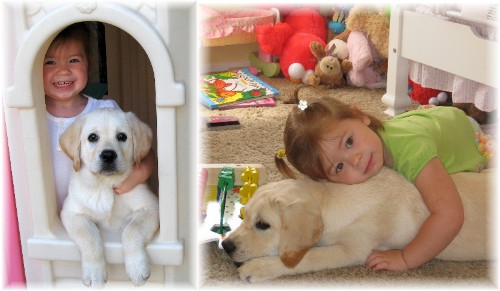 It was really a hard decision to get another dog after losing our first lab- but Cabella has already brought so much happiness to our family! She is so lovable, easily trainable and is so great on her walks. Although it's been like having two children these days – it is going to be so exciting to watch our daughter grow up with her. She has her own goofy personality and we get compliments all the time about how beautiful she is. She goes into her crate on her own at bedtime and has to be a part of everything that goes on! She hasn't yet caught on that all toys are not hers – but we are working on that. She is very sweet and wants to please us all the time. She fits in to our family perfectly and we are very happy that we decided to bring her into our home. Thank you for delivering her to us – she is an angel!
Kelly, Heather and Hailey Smith
Henderson, NV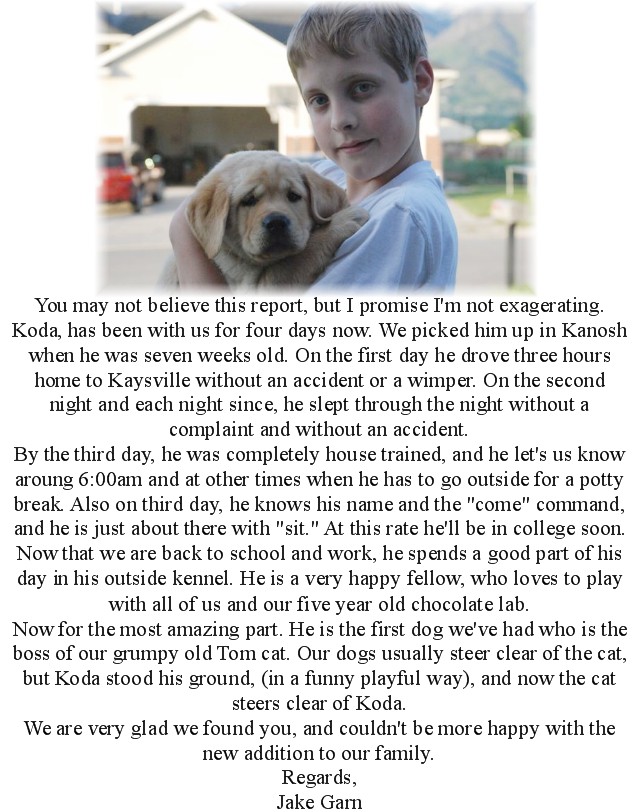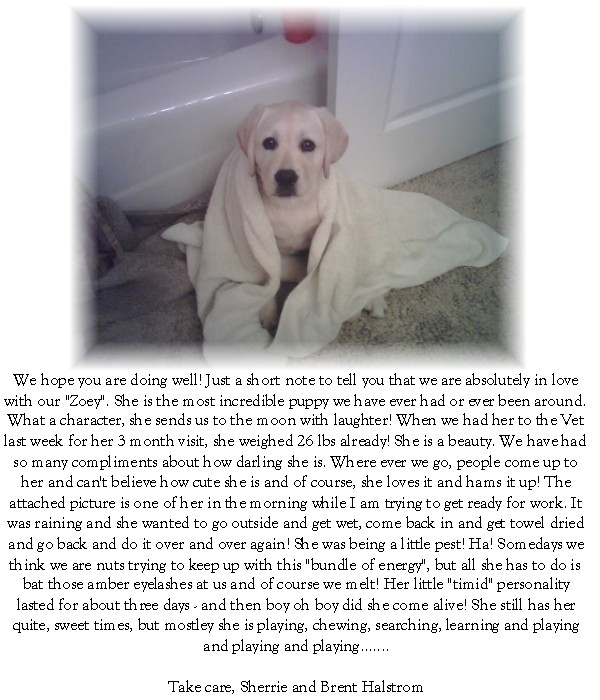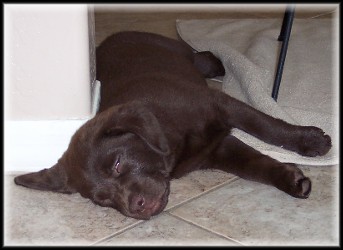 So it's been about 3 wks since we got our puppy; we named him Ty. He's a very good puppy. He was sleeping through the night about the 3rd day we had him and he has never soiled his kennel. He is not quite potty trained yet though, there have been accidents on the carpet and tile, but like I said, never in his kennel. He is getting along really well with our other dogs. My youngest lab Bosley and Ty became fast friends. They play all the time. Ty also likes to climb on my other dogs too, but as for playing hard and wrestling, Bosley is the one he chooses. He loves to be out in the back yard. He loves water, not the pool yet, but he lays in puddles on the patio and we turn the hose on a tiny bit in the grass so he can get splashed and bite the water. We love Ty so much, he is fantastic! And he is so handsome. Everyone who sees him says "wow"! He is 10 wks old now and about 16 lbs. He has learned to sit already too. I wanted you to see pics of him. And yes, he is spoiled; you will see in the 1st pic that on his first day home with us, he was napping on our couch! LOL
anyway, things are great with Ty and us and I can't say enough how happy I am with this puppy. We can already tell he's going to be a wonderful lab!
I hope all is well with you and your family. I'll keep in touch and send pics when he's a bit bigger.
Take care,
Renee Thomas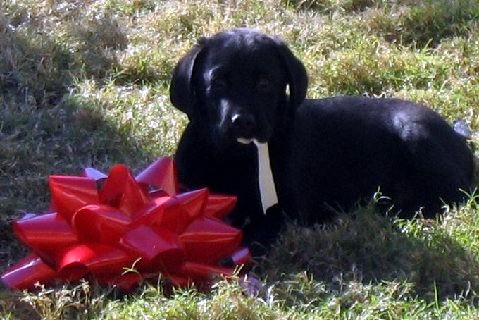 Happy New Year!
We just wanted to send a few pictures of our "little" guy. He'll be 13 weeks old this Sunday and I swear he gets bigger every day. These pictures were taken on Christmas. We are incredibly happy with Gryffindor (we call him Gryffin). He follows us around everywhere and is a very good listener. He knows sit, down, speak, come, and we are working on stay. Everyone who meets him is so impressed by his looks, intelligence, and personality. We took him to Petsmart a few days after his second shot and spent nearly an hour there because people kept stopping to visit with him. Children are definitely his favorites, but he loves everyone. Of course, we tell everyone where they should get a Lab with his qualities and send them to your website to check out your dogs! I just can't tell you how happy I am with him. He was my birthday/Christmas present, and he's truly a gift that keeps on giving! He's very special and I thank you for your very important part in that.
Tracy Smith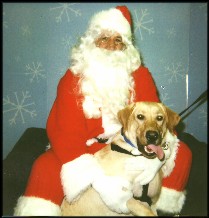 Art & Caroline
Brickell and their dog Daytona (he is from Duke and Bell)
-We have learn that he is an excellent water dog. He also does the
perfect lab pose when ready to fetch. Back tail straight out 1 leg up in
the air. He also will do a dance with both legs before getting into his
pose. He is by far the best lab we have ever had. I've had 4 of them
through the years.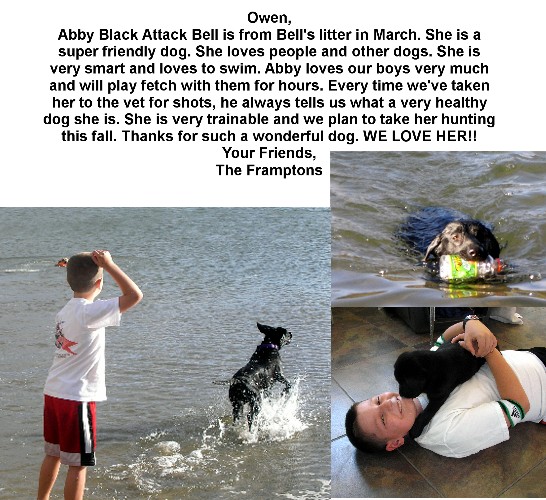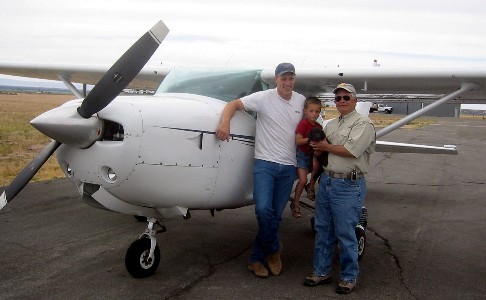 Hi Owen,
His name is
MARLEY BEAR KODIAC. He is the smartest, what a perfect puppy, I take him
to dog school every Tue night, in preparation for therapy dog training. I
am very happy with him I will send you some pictures of last week end a
Flaming Gorge he was retrieving in 47 degree water, He is great with a
ball or saucer disk. He is very good at come, sit, stay, paws up rollover
and play dead. He is the pride of my home. He sleeps in his create in my
bedroom at night and has the run of the back yard in the day and his on
place on the couch. I am very proud and thankful to have met you and you
family. Marley and I walk every day thats where that women met us and
wanted to buy him. Thanks for you friendship and caring.
Your friend
Marlow



I have male puppy # 8 from
Lacy litter who is now named Koda he is growing as we look at him . Koda
is a quik learner,he was house trained at 9 weeks and crate trained he has
a sweet temperant and quikly has become part of the famliy.
Thank you
for Koda
The S.K. family


Hi Owen,
I cannot emphasize enough on how well your breeding has
been with this litter. This evening I got a huge reality check with his
ability of smell, it was simply phenomenal, nothing I've every experienced
before. You two did a great job Owen, thank you! And yes, he will be the
birddog/retriever I've never had. We are doing well on potty training. He
gets his own kennel at night inside our room…sorry, he will be an inside
dog, and kennel trained…anyhow, even at night he will actually whimper
to let us know he needs to go out. He is so smart and patient. He's down
to about 1 or 2 times a night of needing to go out. We also take him to
work with us everyday to continue the support, potty training, and to
provide solid companionship, he's never alone. He usually stays in
Rebecca's office during the day, and sometimes visits me downstairs, but
typically only when he smells me eating…did I mention that wonderful
nose he has….lol
I wanted to thank you two for the wonderful
breed and bloodline, please don't change a thing. I also have another
question, should you have any of Addy and Kimo's pups left, and should you
have difficulty in finding homes, we would be interested in one of his
brothers. Again, thank you for a wonderful addition to our family, and
PLEASE, keep breeding the quality you are doing.
Take care,
Robert and Rebecca Hill