Stay connected with puppy owners from Kanosh Labs on our facebook.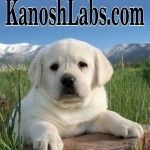 KANOSH MOTEL is owned by our good friend Bob Nafus. It's only got a few rooms but there are usually a couple available. Bob remodeled the old motel and has made it the best overnight stopping place in our area. We're grateful he did too because a lot of folks have had a great overnight stay when they come visit our dogs and family.
You'll have to call Bob to reserve a room.
435-759-2652

Through Kanosh Labs you can get your dog or puppy portait professionaly painted.
Stoyan Kolev is a professional artist from Bulgaria. He happens to be our brother in-law. As we have talked to people and from our own experiences we feel there is a need for people to save memories with thier loved pet – especially those who have passed on. Stoyan has painted some of our dogs for our kennel and home. Below is an example of one.
Prices will depend of the size and dificulty of picture. If you want the picture of your puppy that is on our website you will have to let us know before we deliver your puppy to you. If you are interested in your loved one being painted please let us know or contact Stoyan directly at:
(801) 707-5193
| | |
| --- | --- |
| This is a photo of our dog "Star". | Here is her portrait that Stoyan painted. |

The AKC organization does a lot for our world of dogs. Their database and organization has been a great help for past and present dog breeders that have made the Labrador Retriever breed what it is today. Although puppies from Kanosh Labs are sold without breeding rights, you may want to register your new family member anyway.

The hope of America lies is the strength of its faith and families.
We owe so much to The Lord Jesus Christ and are happy to share more on our belief in him. The role of religion is very personal and we feel sincere respect toward other faiths. There are some very uplifting thoughts and videos here if you'd like to check them out.

We've already featured our brother Dr. Jake DeGraffenried on the Care/Prevention page but since we've put down important websites to us this one just as well be on the list.

One thing we do expect is for you to register the microchip of your puppy. In case you lose the registration card here is the website. You'll still need your puppy's microchip number and your personal info to complete the process. The microchip can make all the difference on wether you find your lost dog or not. In the lifetime of a dog – there's a chance of that happening.