DEEP RUN KANOSH'S THUNDER
CALL NAME: "Thunder"
DOB: September 12, 2011
OFA HIPS: EXCELLENT Elbows: NORMAL
OFA Eyes: CLEAR
Deep Run Casa Blanca SH X Deep Run Parasol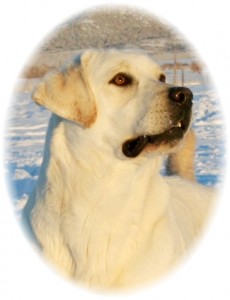 Thunder is an exceptional young guy that really has us excited. The day Thunder arrived from Virginia we all gathered around and kept marveling at what an amazing puppy he was – stuningly correct features, a perfectly fun and gentle personality, and the whitest coat and blackest pigment of any dog we've seen since Chief came to our home. We still are amazed at our great fortune of bringing him into our home. The kids named him Thunder and he seems to relish the sound of it.

Thunder has the best breeding possible for an all around dog. His dad Casey has joined the elite and short list of Champion Master Hunters. He is on the same list as his father and his grandmother. His mother is the daughter of Best in Show Grand Champion Gateway's Nothin But Trouble. Every single bloodline of Thunder is loaded with English Show Champions that carry working titiles. That's what we want – the rock solid genetics, the brains, the beauty, the personality, and the love – all wrapped up in one.

We are so grateful for all the hard work and thought that has been put into the Labrador breed. Because of the hard work of correct breeding through many generations we are truly blessed to have the great Lab experience in our home and we are so happy to carry that into many other homes.