"VILLA'S ALII OF MAUNA KEA"
CALL NAME: "Alii"
DOB: June 6th 2007
OFA/HIPS: GOOD   Elbows: NORMAL
CERF Eyes: CLEAR
CH Levi's Loose Fit, CGC, TDI, WC, JH X Am. Can. CH Pembroke BLK Mist Popar Forest, MH, WCX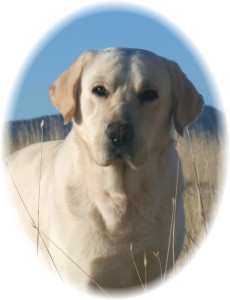 Alii is our big gorgeous white male with large jet black eyes and nose. 

Alii is a great friend to have. He loves to just hang out like one of the guys and he gets a kick out of carrying any old object in his mouth just in case we want to play. Even though he's a big dog that weighs about 95 lbs., he has zero aggressiveness. Alii has never even growled at another dog and is a gentleman and lover to everyone he meets.  He's also a great hunter/retriever.

Alii's mother is CH Pembroke BLK Mist Poplar Forest, "Misty" MH. Misty was the youngest of 40+ Show Champions that have also obtained their Master Hunter Title, until recently, when one her sons replaced her as the youngest Show Champion to obtain his Master Hunter Title. Alii's father is CH Levi's Loose Fit, "Josh" CGC, TDI, WC, JH. Alii comes from spectacular parents with quite an accomplished career.  We can't help but brag about how great he is.