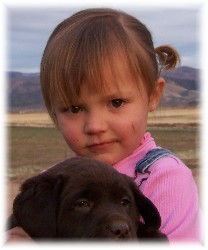 Please contact us for a puppy or up coming litters.
Owen: 435-253-0282 ~ [email protected]
*Pictures updated on Tuesday June 26th*

Tiger Lilly and General had their litter of 7 yellow/white puppies on Sunday, May 27th. There are 5 males and 2 females. The puppies will be ready to go home on July 23rd. Price: $1500

| | |
| --- | --- |
| Males | Females |
| 1st pick: Talma Whiting | 1st pick: Linda Benson |
| 2nd pick: Ray & Amy Golden | 2nd: Bryce Anderson |
| 3rd pick: Randie Schulberg | |
| 4th pick: Susan Vincuilla | |
| 5th: David Burdick | |

Blacky and General had their litter of 7 puppies on Friday, June 1st. There are 2 black females, 4 black males, and 1 yellow male. They will be ready to go home on July 23rd. Price: $1500
| | |
| --- | --- |
| Males | Females |
| 1st pick black: Diane Maxwell | 1st pick black: Linda McMillan |
| 2nd pick black: | 2nd black: |
| 3rd pick black: | |
| 4th black: | |
| Yellow: Jason Dunfee | |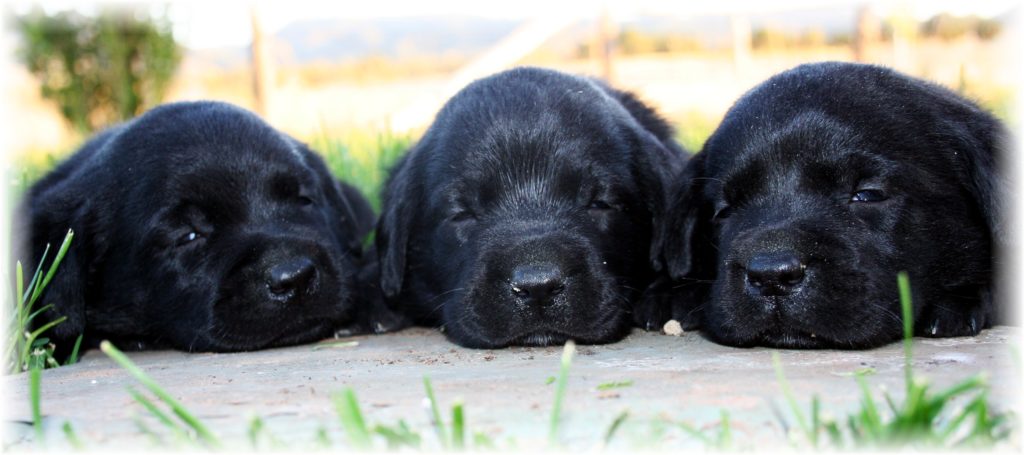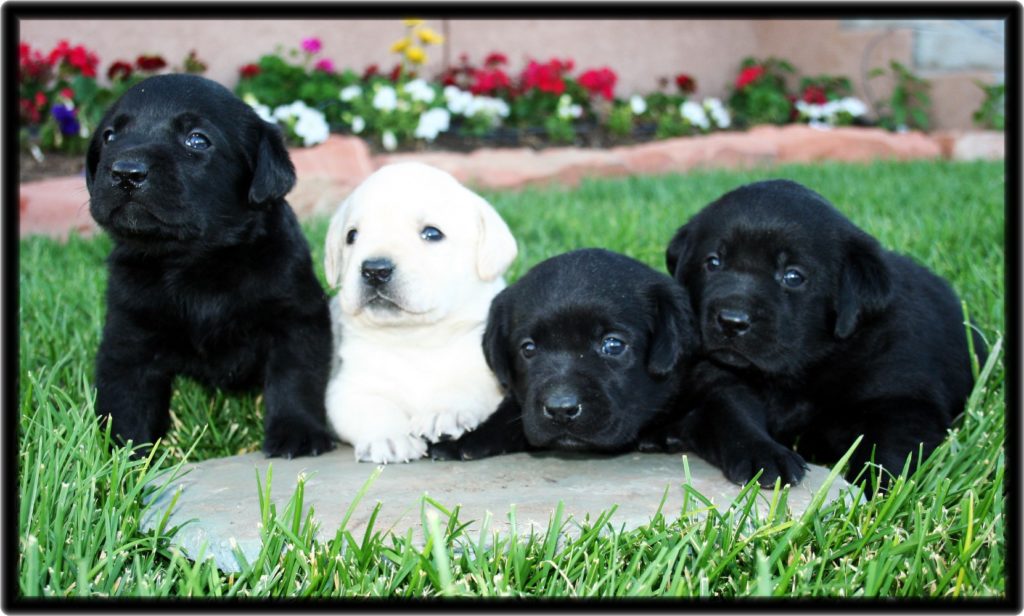 Puppies
There's not many things as fun as playing with puppies. Right now, we've got some of the best little pups that we've ever had. They all are nice, fat, and healthy. They're started on dog food and are growing faster than we can believe. Right now, they will already come to a little whistle and a clap or two. We have a very nice indoor facility designed for whelping, caring for puppies, and making all of the dogs very comfortable. We feel like it's important to maintain a very clean, healthy environment. Puppies always are leaving little piles everywhere-if you plan on having a puppy, realize there's a lot of work involved. Puppies require your affection, time, space, and some money. Please do not get a puppy unless you are willing to take care of it properly. If you're not in a situation to enjoy all a Lab can offer, it would be best for you to wait.
To promote responsible breeding, all of our puppies are sold on a LIMITED REGISTRATION, meaning that they aren't to be bred or shown.
All of our dogs have generations of OFA hip & elbow evaluations and CERF eye clearances. We rarely have any puppies bred from Kanosh Labs with genetic defects. This being said we know that it is impossible to eliminate all chances of problems. When you accept a dog in your family we hope that you are committed to it for it's lifespan. If your dog does have health problems, we would like to know for breeding purposes.When you get a puppy from Kanosh Labs it will have dew claws removed, first and second shots, a microchip implant, and have been wormed. A folder with information for your puppy, including pedigree, AKC registration, shots record, worming record, AKC microchip info, OFA copies, and parent photos will come with it. For more information, look at our care and prevention page.When you pick the puppy you want, it's best to have the family help in the decision because it will become a family dog by its nature. Like people and children, each puppy has its own personality. You may want to reserve one of these puppies, and then find there's better chemistry between you and another puppy. As long as nobody has already spoken for the other puppy you can change your selection-but don't count on that option being available. As puppy owners learn the personality of their puppy and as the puppy learns about its owner, a strong understanding and bond develops (although you'll wonder sometimes while they pass through adolescence).