There are a few things that we ask of you if you get one of our puppies.
1. Find a veterinarian who you trust for the care and well-being of your dog. You will need to continue with its vaccinations within a short time, emergencies happen, and long-term health care is important. Make sure you're comfortable with your dogs' doctor.
2. Give your puppy the right nutrition. Your puppy needs a large breed puppy chow. Small breed puppy chow can cause it to grow too fast and possibly increase its risk of hip displaysia. Feed your puppy 2 times a day and always make sure water is available. We are currently using Nature's Domain Puppy Chicken & Pea Formula (from Costco) but recognize there are other quality foods out there. In the past we have used and been satisfied with Purina Pro-Plan, Iams, Eukanuba, and Enhance. There are other good dog foods out there, just make sure you read the label correctly. Corn based dog foods seem to be harder for the digestive tract and the waste is also a lot messier to clean up. A good puppy chow should have around 25% protein.
| | |
| --- | --- |
| Adult Food we are using | Puppy Food we are using |
3. Exercise- just like us, dogs need exercise. Please spend some time playing or walking your dog each day. You will be amazed at how wonderful a lab is when it gets lots of exercise. If you will keep your Labs from getting fat it will pay off in the long run as well.
4. Spend a little time training your puppy each day. The idea of giving praise and rewards to your puppy when it does something you like will be a rewarding experience. Remember, dogs don't naturally know what you expect. Also, please realize that dogs are happiest when they have a master. They will not do as well if you let them be the boss and neither will you.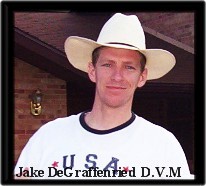 OUR VETERINARIAN
Although he doesn't need any advertising, I'll give a recommendation for our veterinarian. My brother, Jacob DeGraffenried DVM is the best there is. Jake has always been one of my best friends and heroes. Not only was he a 2-time state wrestling champion and good cowboy, but he's always been very sincere, kind, and honest. Jake graduated from Colorado State University in 1998. Here is the location of his facility:
WARNER VISTA ANIMAL HOSPITAL
895 S VAL VISTA DR #102
GILBERT, AZ 85234
Ph. # (480) 497-9700
Dr. DeGraffenried spends a lot of time in the operating room, but would enjoy seeing you and your puppy. He likes our dogs enough that his family dog Sunny is from Bell and Duke.